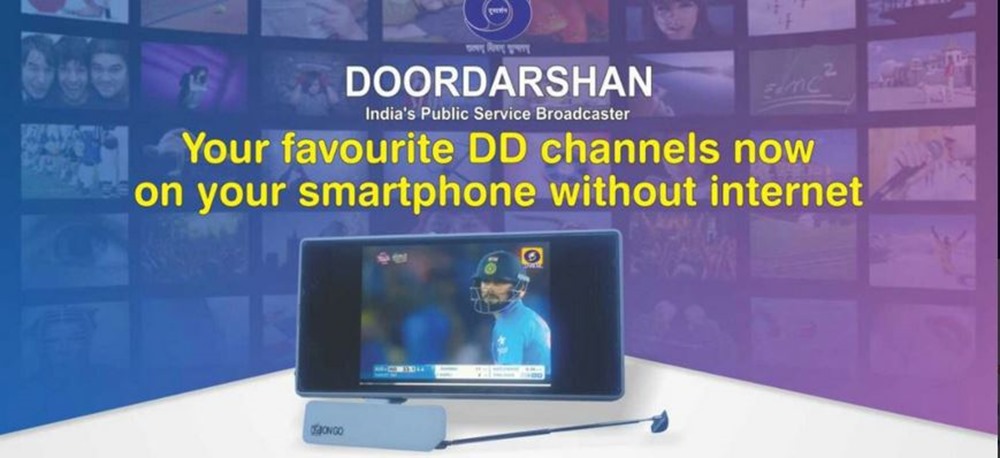 Around a year back, Doordarshan was planning to launch a service that allowed people to watch select DD channels on their smartphones without the need of an internet service. Doordarshan has finally come out with the offline service which allows you to watch its channels on the smartphone without being online.
Doordarshan has been contemplating the launch of such a service for a long time, and it is great to see a public service broadcaster take the lead. Although the service is free of cost, there is a need of a dongle which needs to be bought extra, to catch the signals from DD.
DD has currently launched the service in 16 cities – Delhi, Mumbai, Chennai, Guwahati, Patna, Ranchi, Cuttack, Lucknow, Jalandhar, Raipur, Indore, Aurangabad, Bhopal, Bangalore and Ahmedabad. The service will be expanded to other cities soon!
Technology behind the service
We all know smartphones are the future of media and entertainment. To access any video, we usually have to open apps like Spuul, Hotstar and YuppTV etc or just get onto YouTube. Prasar Bharti wants to let go of the need to have an internet connection to view shows on-the-go, an advancement over analog signals.
Prasar Bharti calls the technology, DVB T2(Digital Video Broadcasting Terrestrial Two) which is a digital video broadcasting device. It has a high data capacity of upto 40mbps and can be simply plugged into an on-the-go(OTG) supported smartphone to view channels.
The terrestrial technology makes use of aerials instead of satellites or cable television networks. They can provide superior picture and sound quality with less interference as compared to analog signals.
OTG smartphones are those which can directly transfer data to devices like a pendrive, without the need of an extra cable. In case your device does not support OTG, you could buy the cables online, including here.
There are also Wi-Fi routers which can be simply plugged at home and connected to in order to enjoy on-the-go service from DD. If placed near the window, it can transmit signal to a radius of 20 meters from it.
DVB T2 dongle simply catches signals like other radio transmitters and receivers, and in this case it will catch DD specific frequencies on fixed, portable and mobile devices.
Comments
comments