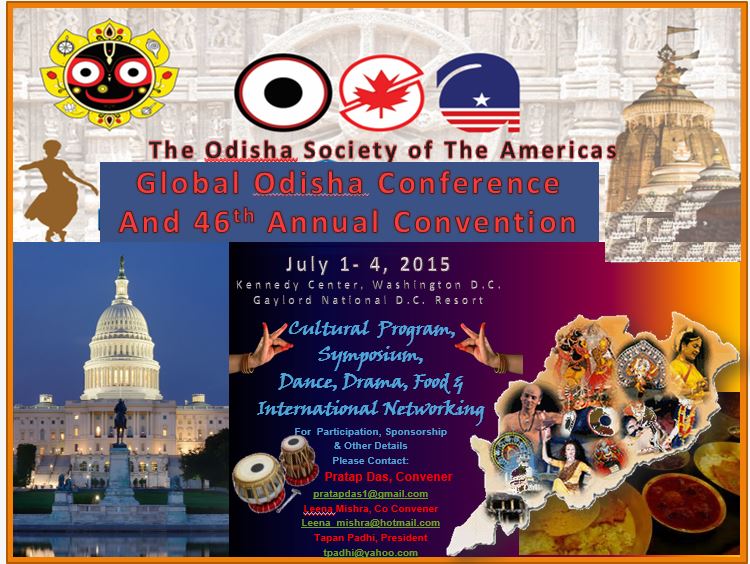 Although Bhubaneswar has more universities and university-like institutes than Pune and Mumbai and almost as many as in Hyderabad and Bangalore, this fact is not much known. Similarly, there are many attractive and competitive aspects of Bhubaneswar (seehttp://www.bbs.orissalinks.com/) and Odisha that is not widely known. As a result Bhubaneswar and Odisha do not yet attract as many tourists, hi-tech industries, and non-mineral investment.  This competition is an effort to correct that through increasing awareness via participation in this competition and through an advertising campaign that can be inspired by the competition entries.
The Global Odisha Conference (http://globalodishaconference.com/), supported by the Odisha Society of Americas invites entries for its Dossier competition on Bhubaneswar, other parts of Odisha, and Odisha as a whole. By a dossier we mean an advertising booklet that can be included in a magazine (such as a flight magazine or a business magazine) as a supplement. Examples of dossiers of the kind that the competition is looking for is athttp://www.hemispheresmagazine.com/dossier/ .
The goal of this competition is to create such dossiers to attract tourists, industries, institutions, and in general investment to various parts of Odisha. The competition will be in two categories: (i) Capital region of Odisha (ii) Other parts of Odisha and Odisha as a whole. The Dossier entries should be between 24-40 pages. In the first category, the dossiers will be about the capital region of Odisha that includes Bhubaneswar, Cuttack, Khurda, Puri and Konark. In the second category, the dossiers could be about any other city, district or region of Odisha, or Odisha as a whole.
Multiple prizes will be awarded in both categories. The top prize in each category will be at least $500. The top entries will be presented to the participants of the Global Odisha Conference (http://globalodishaconference.com/) in Washington DC, USA during July 1-2, 2015. They will also be given to Odisha government for consideration to prepare similar dossiers for advertising about Odisha. Dossiers with all original pictures will be published by Global Odisha in the web and other venues.
For the Dossier on greater Bhubaneswar, the participants may use the content and links athttp://www.bbs.orissalinks.com/ . For the Dossier on other parts of Odisha and Odisha as a whole, some links will be provided at http://odisha.orissalinks.com/. The participants may use any pictures, but those using all original pictures will get special benefits such as wide publication of their entries, and inclusion in planned exhibitions.
More information on this will be made available at http://globalodishaconference.com/ .
Dates:
Registration: March 31st, 2015.
Submission: April 30th, 2015.
Announcement of Top 10: May 31st, 2015
Submission of a youtube presentation: June 15, 2015
Presentation at the Global Odisha Conference: July 1-2, 2015.
Announcement of top awards: July 2, 2015
Tourism and promotion Track, Global Odisha Conference,
http://globalodishaconference.com/
Chair       – Chitta Baral, AZ      [email protected]
Co-Chair – Satya Pattanaik, OH   [email protected]
Comments
comments