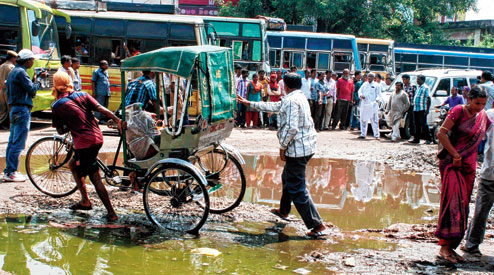 Repair and maintenance of Baramunda bus terminal here and Badambadi bus stand in Cuttack will be taken up shortly. The project will cost the transport department Rs 3 crore.
Both the bus terminuses, which are among the largest in the state, have been in a shambles because of poor maintenance. Potholed roads, craters filled with mud and slush and piles of garbage define these two bus stations, where nearly one-tenth of the 17,000 buses plying in the state report.
Baramunda bus stand, which is the biggest bus terminal in the state, has become almost unapproachable from one end because of the poor condition of the approach road, while the other stretch, too, needs immediate repairs.
Being badly lit, this bus station is slowly turning into a den of criminals. Apart from the problem of law and order, both passengers and the crew of buses suffer for want of adequate toilets.
The condition of Badambadi bus stand, the second biggest of the state is no different. Roads filled with potholes, mud and slush make life difficult for passengers. The stink from garbage and drains nearby is unbearable as people urinate in the open.
Source: Telegraph
Comments
comments