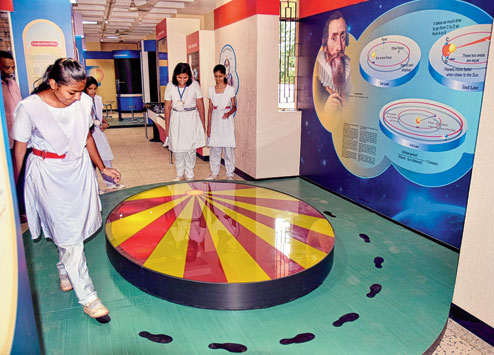 A new gallery launched at the Regional Science Centre here makes understanding theories of motion — in physics and beyond — interesting and easy.
From expansion of the universe to the solar system, continental drift and creation of different landmass on the Earth, relativity, movement of food inside our body and blood circulation are all related to the theories of motion.
Through interesting models, the gallery helps students understand the theories of motion that people experience in their daily lives.
Chief minister Naveen Patnaik, who inaugurated the gallery yesterday, hoped that students would grab the opportunity to see the models on display and understand simple scientific applications related to motion on their own.
The displays and models at the new motion gallery include a 3D film on the solar system, display on how the continental drift occurred, the solar and lunar eclipse and an interactive model to show how in the solar system planets revolve around the sun in elliptical paths.
The 4,250sqft gallery also has displays on earthquakes, weather changes, tornadoes, wave motion, motion of sub-atomic particles and illusions related to motion.
Majority of these are interactive so that the visitors can
take the help of the tools to understand them easily. There are 40 exhibits at the new gallery.
Director-general of National Council of Science Museums (NCSM) G.S. Rautela said that there would be more facilities at the centre so that schoolchildren get a platform to express their creativity.
Officials also plan to have an innovation hub at the centre where students can interact with scientists and technicians to execute models based on their ideas.
The Bhubaneswar centre, which is among the 27 NCSM-run units, has two galleries on mathematics and popular science, a science park and a pre-historic park equipped with light and sound show.
Last year, 2.5 lakh people visited the centre, including 65,000 students.
Within two to three years, the centre is going to have a panorama to showcase scientific and cultural developments through audio-visual shows. Once the facility is installed, Bhubaneswar will be at par with Nagpur and Tirupati centres.
Comments
comments