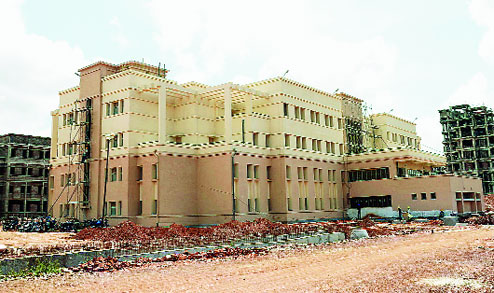 The construction of the National Institute of Science Education and Research (Niser) campus near Jatni, around 30km from the city, is in the final stages.
Niser authorities said its administrative wing would shift from the temporary campus at the Institute of Physics here to Jatni on October 9.
As the shifting of students from the temporary campus was not possible in the middle of the academic session, students would begin to occupy the hostels at the Jatni campus after the winter break. By April-May next year, the entire institute would be shifted to the permanent campus. Prime Minister Narendra Modi is likely to dedicate the institute to the nation after it shifts to Jatni.
The Jatni campus of Niser will have an academic complex spread over 72,700sqm with 11 buildings housing the school of sciences (chemistry, physics, biology and mathematics), humanities, library, auditorium and a meditation centre located on a hill.
The residential township will have nine hostels, 10 blocks of staff quarters, 76 senior quarters and one director's bungalow. The sports complex will have a students' activity centre, aquatic sports complex and playgrounds near the quarters. Besides, the campus will have a community centre, bank, post office and a health centre. While work on the new campus is in progress near Jatni, the institute is now functioning from Institute of Physics, where infrastructure was developed at a cost of Rs 15 crore in 2007.
Courtesy: Telegraph
Comments
comments