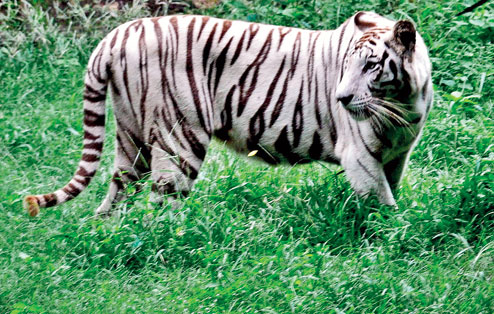 The Nandankanan Zoological Park is all set to become the first park in the country to adopt zoo volunteers programme under which, it can seek services of volunteers for day-to-day management work.
The Nandankanan management, which had notified the programme, has received 91 applications and is shortlisting their profiles.
While the Central Zoo Authority (CZA) has permitted all zoos in the country to adopt the volunteer programme, none has attempted it so far. Under the programme, volunteers can take part in a host of services, including visitor management, zoo education, maintenance, animal care and health management.
While volunteers will enrich their experience through a variety of works, the zoos which are mostly short of trained manpower can get more hands to improve the services.
"It is not just that the zoo seeks more manpower. We are also looking at a bigger interface with the public under the programme. The governing body of the zoo has already approved the programme," Zoo Director Sudarshan Panda said.
The CZA has clearly outlined that work areas for the zoo volunteers will be to man the visitor information desk, zoo education and awareness programmes, maintenance work, attending children's play arena, special events, tour guides, grounds keeping as well as management of animal feed.
The Nandankanan management is in the process of formulating a screening committee which will select the volunteers by verifying their credentials, academics and experience in similar areas. Non-serious and mischief-makers will be kept off the list.
Panda said the volunteers will be issued ID cards and a register will be maintained to keep a record of their attendance because they will be allotted different workdays on the basis of their availability. Before they are enrolled, the volunteers will also undergo training.
According to the CZA, volunteers who work at least for 30 days in a year will be eligible for a certificate of participation, while those active for two or more consecutive years and render exemplary service may be considered for a special award.
Comments
comments