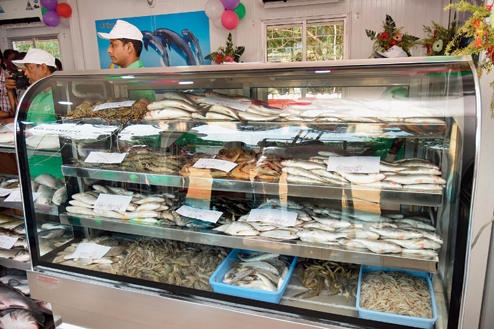 Chief Minister Naveen Patnaik today inaugurated 'Chilika Fresh', a kiosk for fresh fish and crabs, at Siripur Square near OUAT Campus in the state capital.
Chilika Fresh, a modern hygienic pre-fabricated fish retail selling kiosk would cater to the need of fish-eating population of Bhubaneswar city, said agriculture and fisheries minister Pradeep Maharathy.
Varieties of freshwater, brackish water and marine fish along with crabs and lobsters would be sold in hygienic condition, the minister said adding fishery products like dry fish, canned fish and fish pickle would also be sold to the consumers at a later stage.
With the success of Chilika Fresh, more such kiosks would be set up at various potential spots of Bhubaneswar like Shahid Nagar, Jayadev Vihar, Unit-9, Pokhriput and other places and after evaluating the response from the people, such kiosks would be started in other cities of Odisha
Comments
comments