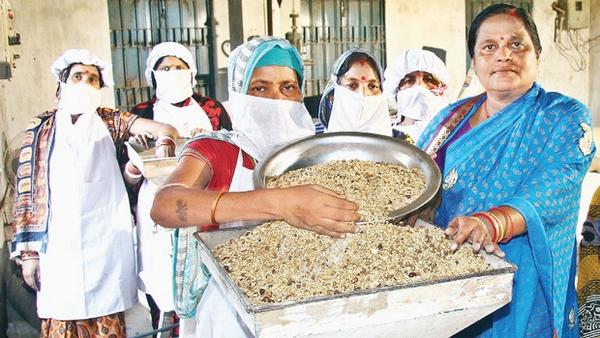 It was just the other day that a three-day-old girl was left by her parents near our factory so we would notice her immediately," says Prema Nalini Sahoo as she strides into the chhatua (nutritious ground cereal mix) processing unit at Panchgaon under Tigiria block of Cuttack in Odisha. "We handed her to the Child Welfare Committee. She is in care of a shelter home for now," she adds.
A crowd begins to gather around Sahoo soon after her arrival. Sifting through piles of peanuts, roasted wheat and gram that are ready to go into the grinding unit, Sahoo spots a woman in her mid-20s standing gingerly by the door. She beckons her inside and enquires about her domestic situation. The woman was on the verge of being abandoned by her husband, but after Sahoo's counselling, the couple has reconciled.
For Sahoo, 48, this is routine. The day starts early and runs late into the night as she juggles the affairs of four producers groups, including the chhatua processing unit, a sanitary napkin manufacturing unit and two agarbatti rolling units in the block along with playing agony aunt, mediator and crusader against social ills.
While single-handedly transforming a self-help group (SHG) into a mass movement that provides income to more than 6,000 women here, Sahoo is also the go-to person for resolution of marital discords, family disputes, etc. At last count, she had resolved 200 such cases.
She has also gained accolades for her relentless fight against alcoholism and illicit liquor in the region. Village cleaning, sanitation and hygiene have also become the standard through the women's groups propelled by her.
It all started in 2002, when Sahoo decided to step out of the comfort zone of her home. Under the then fledgling Mission Shakti Programme initiated by Chief Minister Naveen Patnaik, she roped in 10 women from her village to start a SHG with groundnut shelling as the enterprise. The debut failed but Sahoo's leadership and organisational qualities came to fore. As she began organising women, people began to come to her with their domestic problems.
As her influence grew, she formed the Jemadeipur Gram Panchayat Mahila Samiti with 500 members in 2005. They got involved in sanitation drives but their major claim to fame was the all-women campaign against liquor and alcoholism.
"Liquor shops and illicit brewing units were destroyed and all-women groups beat up drunks irrespective of whether they were their husbands, fathers or brothers. It drastically reduced liquor sale," says Sahoo.
Soon she found women from other villages wanting to join in. In 2008, the Mahila Samiti was merged with Tigiria Block Women's Federation, comprising over 600 SHGs and over 7,000 women. Sahoo started Jyoti Mahila Sangha, the first producers group in Odisha, by taking five SHGs and involving 54 women. The unit also ventured into supplying hygienically processed ready-to-eat chhatua to Anganwadi centres, girls' schools and pregnant mothers under different government schemes.
More than 400 women are directly involved with Sahoo at the two agarbatti rolling units, while other SHGs in the area are guided by her. These women are now earning around `3,000 per month. "We will empower every woman in our region on livelihood and social issues," says Sahoo.
Courtesy: New indian Express
Comments
comments