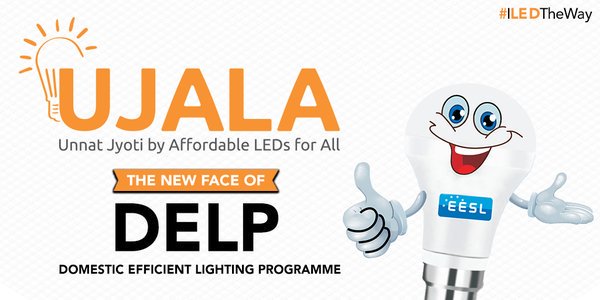 Odisha Minister of State for Energy Pranab Prakash Das Monday launched the Unnat Jyoti by Affordable LEDs for All (UJALA) scheme in Odisha. Odisha became the 14th state in the country to adopt UJALA initiative.
Currently, the UJALA scheme is fully operational in Rajasthan, Maharashtra, Karnataka, Kerala, Uttar Pradesh, Himachal Pradesh, Delhi, Haryana, Bihar, Andhra Pradesh, Puducherry, Jharkhand, Chhattisgarh and Uttrakhand. More states and UTs will be launching the national programme shortly.
The UJALA scheme – being implemented by Energy Efficiency Services Limited (EESL) – has been widely accepted across rural and urban areas of the country. The primary reason for this mass adoption is the capability of LED bulbs to give consistent luminosity even in low voltage, where incandescent and CFL bulbs usually fail. Also, the LED bulbs distributed under the UJALA scheme is one third the market price and these superior quality bulbs also come with a three-year free replacement warranty.
The scheme implemented by Energy Efficiency Services Limited (EESL) is a joint venture of NTPC , PFC, REC and POWERGRID and is set up by the Union Ministry of Power to facilitate implementation of energy efficiency projects.
Under the scheme, consumers are eligible to buy 9W LED bulb at Rs 85 each.
The scheme permits domestic consumers to buy a maximum of 10 LED bulbs for Rs 85 each, which would cost in the market Rs 310 each.
Comments
comments