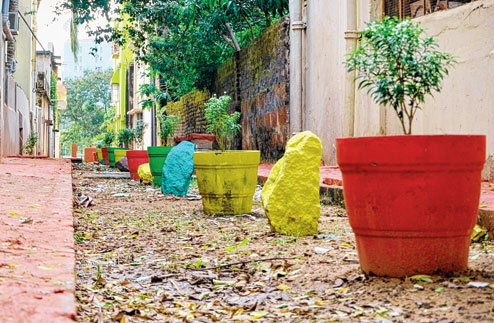 At a time when Prime Minister Narendra Modi is urging people to join Swachh Bharat campaign, a councillor of the municipal corporation has shown how to do it.
She has converted a polluted conservancy lane in Saheed Nagar into a beautiful park in the backyard of eight houses.
The conservancy lane, where nearly 14 tractor-loads of solid waste was lying even about a month ago, has been turned into a little oasis of beauty with a play zone for children.
Councillor of ward No. 30 Saswati Mishra has motivated eight plot owners to stop throwing waste in their backyards so that the space could get a makeover.
The area now has potted plants and space for women and kids to roam around.
Conservancy lanes are areas behind a series of houses in old colonies in Saheed Nagar, BJB Nagar, Satya Nagar, Surya Nagar, Ashok Nagar, Madhusudan Nagar and government colonies in the city, which can be cleaned by the civic staff.
The sewerage lines of the houses were also linked to the main line in the land earmarked as conservancy lane.
Saswati, in fact, got the inspiration from his husband Umanath Mishra, a former councillor from Saheed Nagar.He had broached this idea of a clean conservancy area. Since most lanes had turned into dumping sites and become breeding ground for mosquitoes, weeds, rodents and snakes, thought it was necessary to clean up the mess for a healthy environment.
Courtesy: The telegraph
Comments
comments