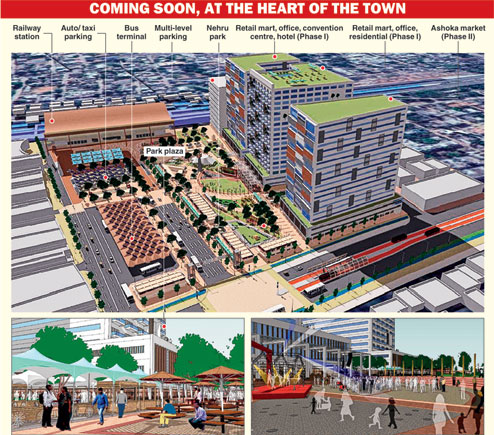 The design and planning for a state-of-the-art town centre, which will come up on 12 acres of land near the railway station in Ashok Nagar is finally ready.
Canadian firm IBI has prepared the design and plan for the Bhubaneswar town centre.
The plan is to modernise and beautify the area near the entrance of the city railway station.
Facilities including civic amenities, parking lots, retail and office space, residential blocks and hotels will all be integrated in three towers of 20-storeys each.
Exclusive pedestrian ways with underpass, space for holding fairs, amphitheatre, fountains and parks will also be constructed at the upcoming facility.
According to the IBI plan, in the first phase two 20-storeyed buildings will be constructed. These buildings will have business establishments, office space, hotel as well as residential apartments. A multi-level parking lot will also be build.
In the second phase, the third tower will be constructed to incorporate the existing Ashoka Market.
The master plan of the station and adjacent areas will also include an urban plaza, park, open space and street network. Footpath vendors and food cart owners will also be rehabilitated and night shelters for poor people will also be included in the structure.
Courtesy: Telegraph
Comments
comments