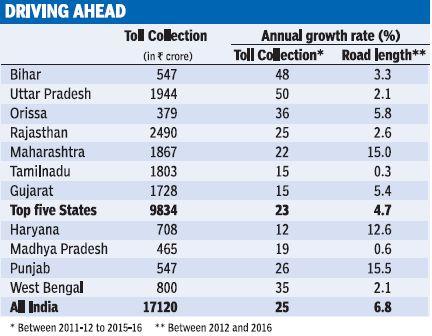 With companies largely dependent on road transport to move goods, toll collection by the National Highways Authority of India has also been growing at a steady clip over the last five years.
Tolling data show that three economically backwards States — Bihar, Odisha and Uttar Pradesh — have recorded the highest growth in toll revenue in this period.
The toll collection in Bihar and Uttar Pradesh recorded annualised growth of 48 and 50 per cent over the last five years with Odisha's growth rate, not too far behind, at 36 per cent. The national average during the same period stands at 25 per cent.
There was a marginal decline in growth rate in FY 16, when compared to FY 15. Due to slowdown in industrial activity and poor monsoon affecting agri output, all-India growth in toll collection slipped to 20 per cent in FY 16. But these States continued to record more than 25 per cent growth in FY16 as well.
If absolute numbers are considered, economically developed States such as Maharashtra, Tamil Nadu and Gujarat contribute more to the NHAI coffers. But growth rates in these States were lower than the national average over the last five years, due to the higher base effect.
Read more from HinduBusinessLine
Did you know Bhubaneswar Buzz is only portal covering Odisha to have more than 19,000 followers (consistent) in top 3 Social media platforms i.e. Facebook,Twitter and Instagram
Bhubaneswar Buzz is available in 10 social media channels, check out all of them here
Did you know Odisha is first in India to host Asian Surf Championship
Like Us in Facebook to get more content like this
Comments
comments