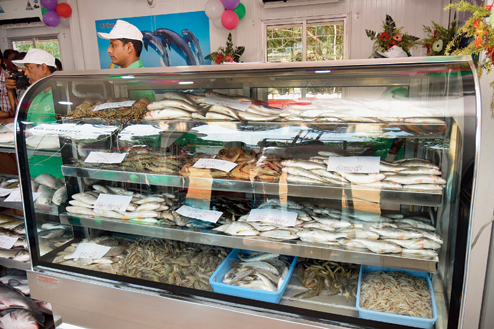 The air-conditioned stall is a modern, hygienic, pre-fabricated retail fish kiosk which will cater to the needs of the fish-eating population of Nayapalli and adjoining areas of the capital city.
Apart from selling fresh fish from Chilika and its surrounding water bodies, the outlet is also selling fish pickles and ready-to-eat fish bhujias. It has also, for the first time, introduced frozen fish.
A variety of freshwater, brackish water and marine fish, along with crabs and lobsters will be sold in hygienic condition at the outlet. Subsequently fishery products like dry fish, canned fish, fish pickle will also be sold to the consumers.
Fish will be directly collected from fishermen and sold to consumers to give them the best price. Fresh water fish like Rohu, Catla, Mrigal and other Minor carps and marine fish like Hilsa, Pomfrets, Mackerel, Bhekti, Khainga, Prawns, and Crab etc. will be sold at the counters.
Also Read: Chicken Fresh Outlets in Bhubaneswar after Chilika Fresh for fish a great success
Comments
comments