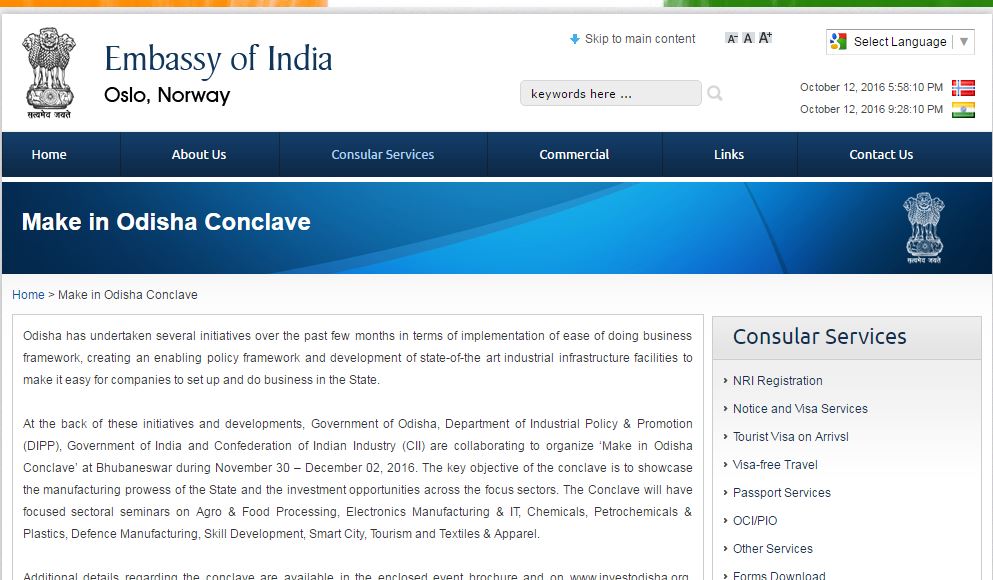 Odisha has undertaken several initiatives over the past few months in terms of implementation of ease of doing business framework, creating an enabling policy framework and development of state-of-the art industrial infrastructure facilities to make it easy for companies to set up and do business in the State.
At the back of these initiatives and developments, Government of Odisha, Department of Industrial Policy & Promotion (DIPP), Government of India and Confederation of Indian Industry (CII) are collaborating to organize 'Make in Odisha Conclave' at Bhubaneswar during November 30 – December 02, 2016. The key objective of the conclave is to showcase the manufacturing prowess of the State and the investment opportunities across the focus sectors. The Conclave will have focused sectoral seminars on Agro & Food Processing, Electronics Manufacturing & IT, Chemicals, Petrochemicals & Plastics, Defence Manufacturing, Skill Development, Smart City, Tourism and Textiles & Apparel.

Additional details regarding the conclave are available in the enclosed event brochure and on www.investodisha.org. Business/Industrial houses are requested to take this opportunity to explore the investment opportunities in Odisha, India. The delegates participating the conclave will also be able to experience the rich cultural heritage of the State of Odisha by a visit to the world-renowned Konark Dance Festival and International Sand Art Festival being organised during December 1-5, 2016.
Comments
comments