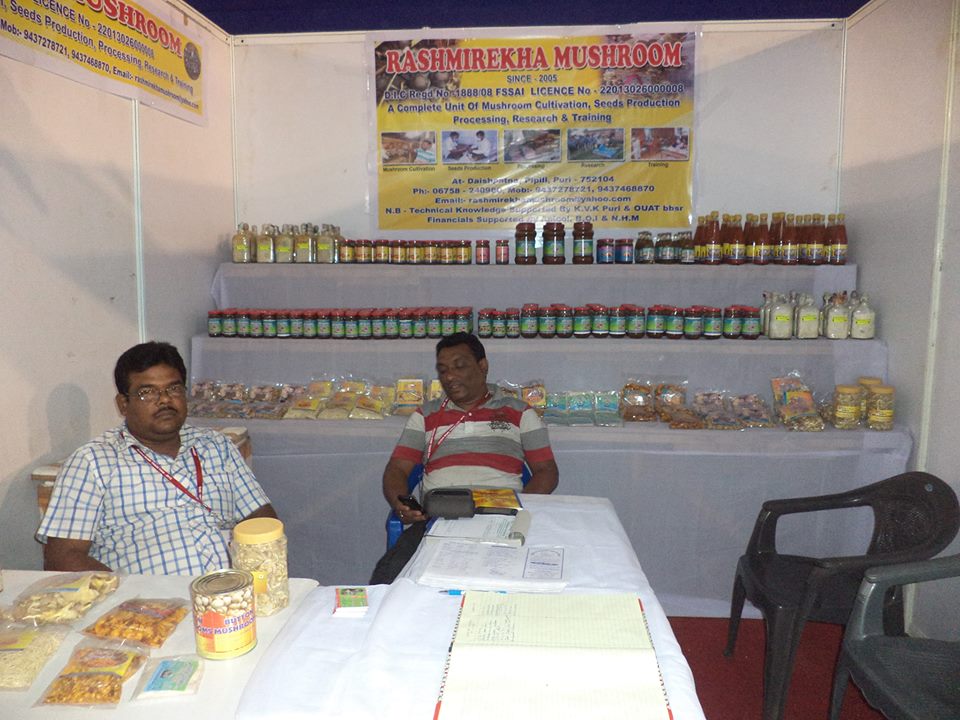 An MBA in agri-business management, Sanjit Kumar Mohanty from Pipili, is bringing about a revolution in the way we savour mushroom.
With his array of products that are based on the edible fungus, there is no wonder why he is called the "Mushroom man." His little kiosk that has been put up at the ongoing MSME Trade Fair 2015 on Idco Exhibition Ground is must-visit for all foodies and entrepreneurs.
After pursuing a course at the Odisha University of Agriculture and Technology (OUAT) Bhubaneswar, the 41-year-old from Daishapatana in Pipili started trying his hand at mushroom cultivation.
Mushroom gives fast bucks. Within 12 days of cultivation, one can earn a handsome amount. There is zero loss in this business
He began his mushroom experiments on a half-acre land in a mango orchard in Daishapatana in 2005. After that he went for a training programme on mushroom spawn (seed) production in the Directorate of Mushroom Research at Solan, Himachal Pradesh and also did a course on food preservation and canning at the Central Food Technological Research Institute (CFTRI), Mysore.
"Mushrooms are highly perishable and I was looking for more viable ways to process and preserve it. I thought proper processing could enhance the food and market value of the edible fungus. I invested Rs 30,000 to buy mushroom processing equipment. In 2011, I put up a stall during Rath yatra with four products. Since then, there has been no looking back," said Mohanty.
Mohanty's firm Rashmirekha Mushroom specialises in cultivation, spawn production and processing. More than 10 people are now working with him.
With an average turnover of Rs 50 lakh per annum, he is certainly raking in the moolah. His products are available at the outlets of Udyan Fresh.
The products include pickle, powder, chips, chutney, soup powder, papad, sauce all made from the fungus. Some never- tasted-before items such as mushroom mixture jam and squash are becoming the toast of the fair.
"We have never heard of something like mushroom mixture. This looks like a good snack for a nippy evening. My kids dote on everything that is sweet. So, I am also taking home two packets of jam," said Charulata Mishra, a local resident.
Mushroom chow-noodles made from dried mushroom- is Mohanty's trump card. But the cultivator has bigger ambitions.
In 2011, he got the state award for mushroom cultivation. The following year, Himachal Pradesh honoured him as the best mushroom farmer.
While the micro, small and medium enterprises (MSME) sector contributes 40 per cent to the state exports, the fair with as many as 295 stalls has become a platform for entrepreneurial activities. Inaugurated on Thursday, it will be on till January 14.
Courtesy: Telegraph
Comments
comments