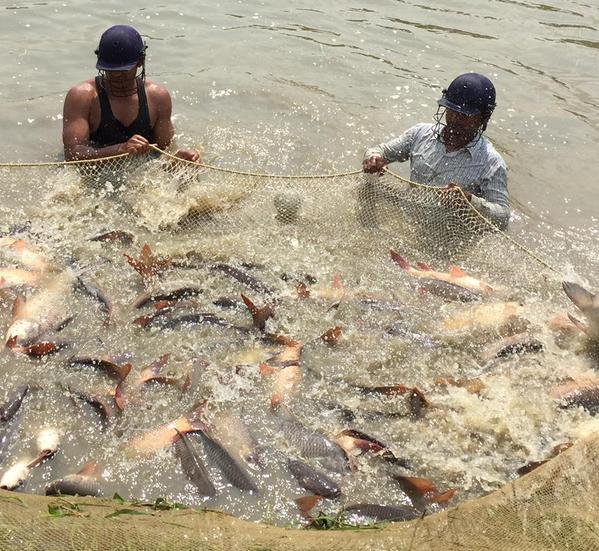 Dinabandhu Sahoo, a marine biologist has devoted his life to the esoteric area of seaweed. He wanted his technology to impact people, improve their lives. And that is exactly what he is doing through 'Project Chilika'. Teaching villagers how to 'farm the ocean' and make a sustainable livelihood through the cultivation of seaweed. Sowing the seeds of 'Blue Revolution', a new hope for millions across the world.
Born and brought up in a lower middle class of Puri, Sahoo was the only graduate from his family. To pay his fees, he took tuitions for children. For post graduation, he applied to Delhi University. With difficulty, Sahoo collected Rs 800 to make the journey. His first, outside the state. He secured admission for an MSc in Botany and even received a national scholarship. But at the end of the course, he was once again lost. He got a job with a newspaper in Tokyo, but it did not excite him. Like most of the students, he joined Delhi University as a researcher. And his story is no different from a thousand others, but for a twist of fate. He was selected as the first Indian student to go to Antarctica in 1987, as part of the 7th Scientific Expedition to the icy continent. He travelled extensively — to many countries — and it opened up his eyes.
As a researcher, Sahoo had a special interest in marine algae or seaweed. There is very little awareness of the utility and the nutritive value of these plants in India. Unlike Southeast Asian countries where seaweed is the part of the staple diet. He decided to work on the Chilika lake. In the countries like Phillipines, more than 10,000 families earn their living through seaweed farming. The coastal areas of many districts in India had the same potential. To spread awareness about this potential, he had authored a book named 'Farming the Ocean' in the year 2000. Seaweed Cultivation on the other hand is eco-friendly and sustainable. He decided to develop a model where seaweed can become a source of income for the local population.
His model was simple — teach locals how to cultivate commercially viable seaweed and simultaneously tie up with the industry for a 'buy back' arrangement at a pre-determined price, so that the farmers get a guaranteed income. Sounds like a simple, workable model; industry appeared to be interested. Sahoo was a scientist, not a businessman. So, he decided to first approach various government departments. Finally the Department of Science and Technology examined his project and disbursed Rs 20 lakhs for a pilot project spread over 3 years. The first such program on cultivation of Gracilaria species was held at Satapada site of Chilika lake in February 2009. The entire activity is handled at the grassroots by NGOs and Self help Groups. Sahoo himself plays the role of trainer, co-ordinator, disseminator of knowledge.
Full details about his work here in Kenfrolios Article by Abhisek Suman
Comments
comments