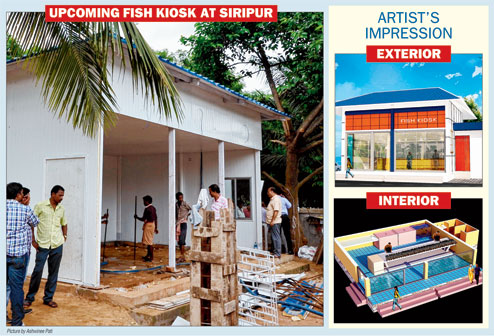 The much-awaited modern kiosk to sell all varieties of fish, including special ones from Chilika Lake, will open shortly near Siripur Market.
Odisha State Fishermen Co-Operative Federation (Fishfed) will start its first modern fish kiosk in the city by the end of this month or the first week of October. Six more will come up soon after. There is also a plan to raise the number of kiosks to 20. The aim is to give people an experience of buying fish in air-conditioned and hygienic surrounding.
Though the idea to open 20 modern fish kiosks by Fishfed was floated in 2013, it could not be done due to lack of availability of land either from the general administration department, the Bhubaneswar Municipal Corporation (BMC) or the Bhubaneswar Development Authority (BDA).
Agriculture minister Pradeep Maharathy took special interest in promoting the venture and held discussions with the authorities of the Odisha University of Agriculture and Technology (OUAT).
The fish supplies from Chilika will be made by nearly 300 fishermen societies registered with the fisheries department.
Main attraction of the kiosk will be availability of live fish at reasonable price for the customers. Other processed fishery products such as prawn pickle, dried fish and dried prawn will also be sold.
Image and content Source : Telegraph Calcutta
Comments
comments