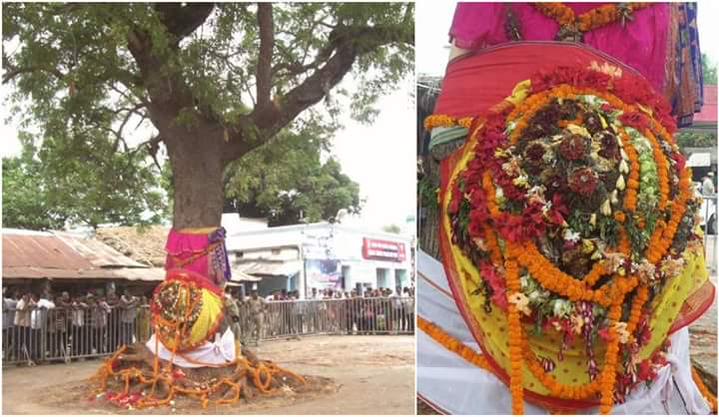 A neem tree whose wood is to be used for carving an idol of Lord Balabhadra was identified near Goddess Sarala shrine in Odisha's Jagatsinghpur district.
The Banajaga team has identified the daru (log/wood) to make an idol of Lord Balabhadra at Kanakpur in Tirtol block of Jagatsinghpur. The wood was found near the Jhankad Sarala shrine.
He said the wood for making idols of Lord Jagananth and Devi Subhadra will be identified and announced soon.
The Banajaga team comprising about 130 members has been searching for the sacred wood – daru – for making the idols of Lord Jagannath and his siblings ahead of the Nabakalebar festival to be held at the Jagannath temple in Puri in June.
According to the tradition, only wood from a neem tree with special features can be used for making an idol of Lord Balabhadra.
The bark of the neem tree should be white, the tree should have seven branches, it should have a sign of a plough and pestle, it should look like a snake and a 'bel' tree must be near it
Earlier, Lord Sudarshan's daru was identified at Gada Kantunia near Balakati on the outskirts of Bhubaneswar.
Comments
comments