Radha pada darshan at sakhigopal temple, anla nabami is observed on the ninth day of the waxing phase of moon in the kartik month. it is believed that viewing radha's feet and worshipping the amla tree on this day brings great fortune to devotees. this is the only day in the year when the feet of the goddess can be viewed.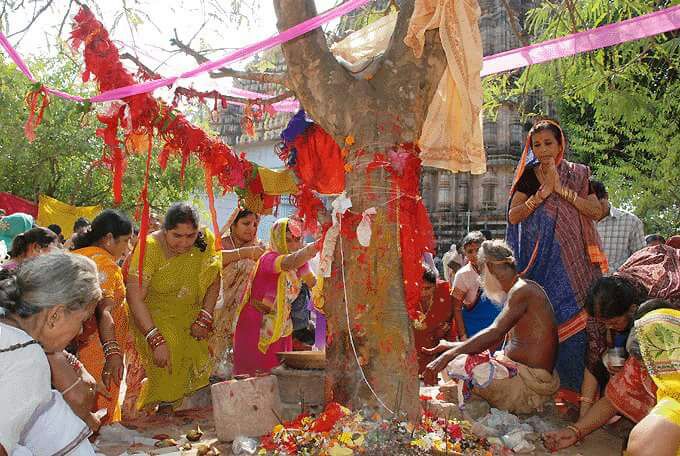 (Pic Description: The Devotees are offering their worship to God at the root of Amla Tree Temple bedha of Sakhigoal.)
According to the Kartik Purana, Lord Vishnu's ardent devotee Brundabati was transformed into three plants that are considered immensely sacred. "These are the malati, tulasi and amla. Hence, amla is worshipped throughout the religious Kartik month. On Anla Nabami particularly, the amla plant becomes the seat of Jagat dhatri or mother Earth. Hence, those who observe Kartik month rituals worship the plant in special ways.
The story is:
Lord Vishnu was very much saddened by the death of Vrinda. He took the ashes from her pyre and after applying them on his body started wondering here and there.
The deities became very worried to see the condition of lord Vishnu. They went to lord Shiva and requested him to eliminate the false attachment with which Sri Vishnu was suffering. Lord Shiva sent the deities to goddess Parvati, saying that she would ceratainly help in this regard. The deities went to goddess Parvati and prayed to her. She became very pleased and with the assistance of Lakshmi and Saraswati, gave seeds of tree to them.
The deities sprayed those seeds on the pyre, on which Vrinda had given up her life. Three holy plants manifested from that pyre. Amla (Myrobalan),Tulsi (Basil) andMalati (Combretum indicum)The seeds manifested as plants which were forwarded to Vishnuloka as tokens of blessings to Vrinda's soul at Vaikuntha.
The above is celebrated as anla nabami (Radha Pada Darshan) at gopinath temple of Sakhigopal.
What is special?
Goddess Radha is decorated with saris and embellishments throughout the year. So her feet are always kept covered. Only on the auspicious day of Anla Nabami, devotees get a chance to view the feet and hence the ritual is known as Radha pada darshan. The goddess is decorated in traditional Oriya costume on this occasion. it is a rare occasion of getting a chance to view Goddess Radha's feet that pulls thousands of devotee. A great fair is annually held here on the anlanabami day.
A popular beliefs among the devotees that the pilgrimase to jagannath temple puri is incomplete without a visit to this sakhigopal temple.
Saksi gopala temple is a very important temple located in town sakhi gopal, puri district. The temple resembles a miniature temple of jagannath temple of puri. The Saksi-gopala deity here, is an exceptionally special one. Standing with flute, with radha standing on left side. It believed that the idols were brought by purushottama dev after his victry over Kanchi. Lord Gopinath alias Gopal was at Kanchi which was later on bought to Odisha and consecrated at Sakhigopa.
Even some says that Vajranabha, Lord Sri Krishna's great-grandson, installed two Gopala Deities inVraja Mandala namely Saksi-gopala and Madana Gopala (Madana Mohana). The Saksi-gopala Deity is the life-size Gopala Deity who walked from Vrindavana to Vidyanagara, a town located 20 to 25 miles from Rajahmundry on the banks of Godavari River in South India.
Sakhigopal means Gopal who is witness. At a later stage due to influence of Gita Govinda (written of Jayadev) people accepted the dual sculpture of Radha Krishna, which is otherwise known as 'Jugalmurti' and accordingly the King of Ranpur of Puri district offered one statue of Radha to have been conjugated with Lord Krishna. The height of Lord Krishna is 5 feet and that of 'Devi Radha' is slightly more than 4 feet. The temple is managed by Government of Orissa since 1939. Behind the temple there is a nice forested land that belongs to the temple. Many medicinal and rare plants are found here. Bakula bana of panchasakha ( Satyabadi Banavidyalaya ) is also situated here.
How to reach Saksi Gopala temple:
Saksi Gopala Temple is located almost midway between Jagannatha Puri Dhama and Bhubaneswar, in a town called Saksi-gopala, about 20 km west of Jagannatha Puri Dhama. The temple is easily reachable by taxi, bus or Puri-Bhubaneswar train. A new railway station called Saksi-gopala is there where people get off to visit the temple.
Timing:
Dwar phita niti (opening of doors ritual) of the temple 1 am – After mangal alati, mailam and abakas rituals, Lord Shree Krishna will adorn the Natabara besha while Shree Radha Rani will adorn the Odiyani besha. after completion of sakala dhoopa, ballava and bala dhoopa nitis the general public will have 'Radha Pada' darshan from very close proximity. Darshan begins at 6 am. There will be break in darshan for half an hour from 4.45pm to 5.15pm for change of palia sevayats (priests) and will continue till late in the night.
Comments
comments