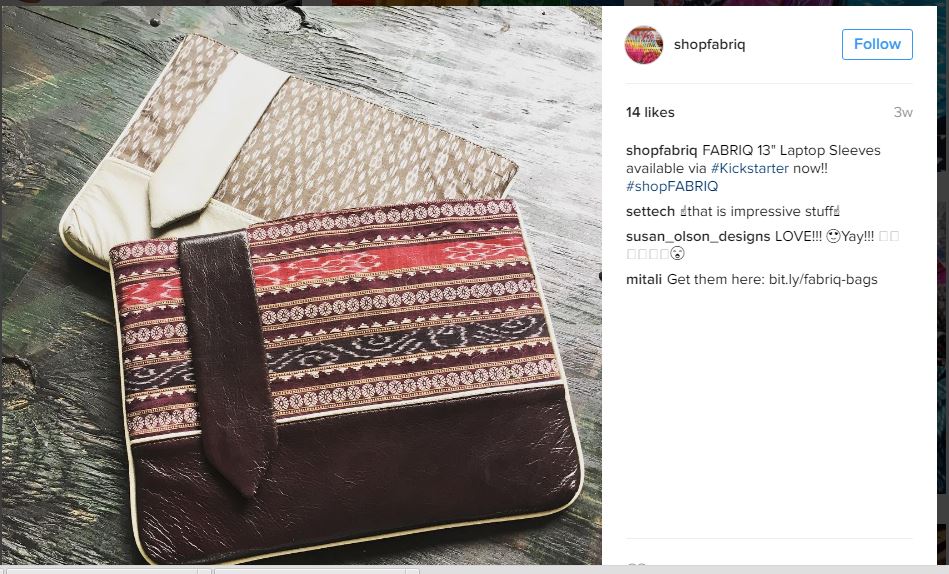 FABRIQ, a brand new line of modern handbags made with authentic hand woven textiles from eastern India, is currently live on Kickstarter and raising funds to bring the project to life.
FABRIQ founder – Mitali Pattnaik and creative director – Bryna Hubbs come from very different backgrounds but met in San Francisco and connected over their shared love of sustainable fashion.
Mitali grew up in Orissa (also spelled Odisha), India – a state known for its beautiful handloom sarees. She came to the US for college and after graduating with a computer science degree and an MBA, Mitali has built a successful career as a technology executive, working for Microsoft, Google, and Twitter. Her love for the handloom textiles of her childhood stayed with her and she has longed for a way to see these beautiful woven patterns used in modern designs.
"As a child growing up in India I was surrounded by handloom textiles – all the sarees that my mother and aunts wore were Orissa handloom, our bedspreads, even table napkins!," says founder Mitali Pattnaik, "Handloom textiles were such a key part of my childhood and they just disappeared when I moved to the US. I've been looking for a way to bring these rich colors and intricate patterns into my modern fashion aesthetic. When I met Bryna and saw the line of handbags she had produced, I immediately knew that's what we needed to do."
Bryna Hubbs is a Bay Area native, artist, fashion designer, and creative director of FABRIQ. After earning her Bachelor of Arts at UCLA, and then attending the Fashion Institute of Design and Merchandising for a degree in Product Development, Bryna spent 7 years designing and producing her own line of handbags under the brand name Bryna Nicole. Her bags were sold nationwide, from Urban Outfitters to Nordstrom, and even made an appearance on Blake Lively's arm in Gossip Girl.
Together, Pattnaik and Hubbs have created FABRIQ, a brand dedicated to bringing authenticity and sustainability to fashion. Every product tells a story but much of the fast fashion today has lost its connection to the materials, places, and people that made it. FABRIQ hopes to change that.
FABRIQ Introduces a Line of Modern Handbags Made with Handloom Textiles from Eastern India
Comments
comments