Centurion University – Gram Tarang
Centurion University, a State-Enacted Private University having a School of Vocational Education and Skills Training in its original Charter, has established a Social Entrepreneurship Entity Gram Tarang, which is one of the first partners of NSDC. The Raison D'tre of Centurion University, having its constituent campuses in difficult geographies and one campus in Bhubaneswar, has been to impart appropriate and relevant education.. The sense of purpose and the purpose of appropriate and relevant education is to build Competency- Ability-Capacity through hands-on knowledge, experience based learning and practice oriented pedagogy.
The Unique Edge
• Giving the most disadvantaged sections of the society in the most difficult-towork-in areas of the country an opportunity to earn a sustainable livelihood and navigate an equitable growth and thereby wean them away from the shadow of extremism.
• Industry involvement in the process to assist with setup of state of the art, industry standard workshops & labs with all relevant machines, tools & equipment to ensure hands on, practice oriented & experiential based learning.
• Going the extra mile and helping the youth build career paths in the industry through post placement migration support & work integrated learning through NSQF implementation.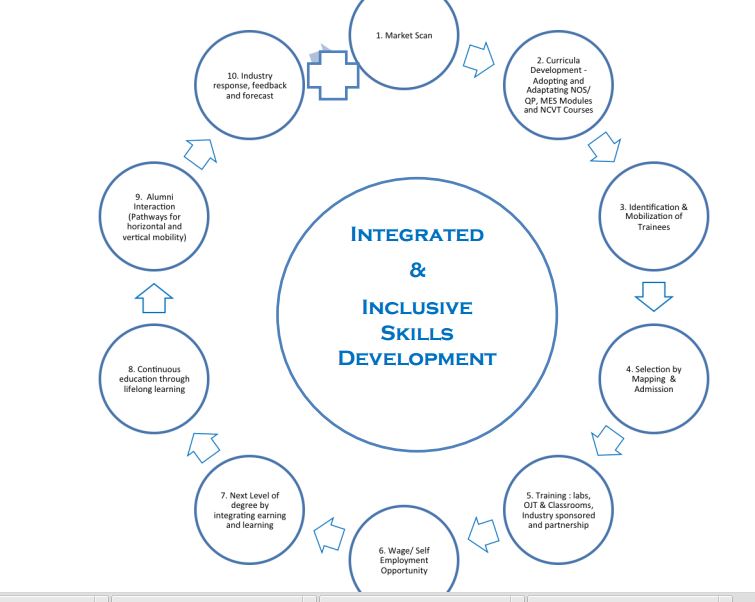 CUTM – Gram Tarang has pioneered various unique initiatives in the vocational education space, which clearly demonstrate, out of square and out of circle thinking to bring in new paradigms in skills development. Some of the key initiatives are: Integrated & Inclusive Skills Development 110 1. Proven track record in community mobilization from difficult to reach regions where the ability to pay for training is limited and education levels are poor. 2. Partnership with DGET: Institute of Training of Trainers (ITOT), Testing Centre for Testing the Competencies of Assessors of Empaneled Assessing Bodies under the SDI Scheme, Assessing Body under Skill Development Initiative (SDI) Scheme based on Modular Employable Skills (MES) for Odisha, Andhra Pradesh and Telengana, RPL Testing Institute, Model Career Counselling Centre 3. Industry partnerships to create state of the art workshops & labs for experiential based learning. 4. Launching skill training for deaf and mute (they term is as kids of Wonder of Silenec) in partnership with CCD. 5. Gender sensitivity was visible both for training and engagement of trainers. 6. Pioneered a qualifications framework – Centurion Vocational Education Qualifications Framework (CVEQF), aligned to and in complete synch with NSQF to ensure continuous learning & higher qualifications through workintegrated training.
Revenue Model
CUTM – Traditional models adopted by training institutes, NGOs etc depend on students paying for their training or on government subsidies. However, CUTM is working actively towards establishing a market-driven model that is both sustainable and scalable. The 1/3 x 1/3 x 1/3 revenue model that has been adopted depends on training costs being paid for by the three key stakeholders involved: Individuals, Government and Enterprises. 1. Government Schemes: Gram Tarang has linked with various government schemes through the ministry of Rural Development (DDU GKY) and Housing Urban Development Department (SJSRY – NULM), Integrated Tribal Development Authority, SC/ST Dept, State Employment & Skill Missions etc. to subsidize the training costs for BPL (Below Poverty Line) candidates and SC/STs. 2. Industry Sponsorships/CSR: The industry is also now involved in the training cycle by funding some portion of the training costs of the youth.
These partnerships ensure that those specific skill-sets are imparted to the trainee and they are partly or fully sponsored by the hiring company 3. Student fee: Students paying their own fee entirely or through one of the following means: a. Pay as you earn: Gram Tarang encourages trainees to undertake training on credit and paid on installments once the candidate gets employment. b. Training cum Production: GTET also operates a small scale production unit where some of the trainees for Welding, Fabrication & Fitter are employed as interns to enhance learning in a live production environment. Trainers: Selection & Training of trainers is a major roadblock in the scaling of skill development; this problem needs to be addressed on a mission mode and requires a two fold strategy. One aimed at increasing the pipeline of potential trainers and the other at quality improvement of the existing trainers. Centurion – Gram Tarang follows as below: • University Teachers are sent to Industry/ NTTF/ Tools Rooms for Training on real-time basis, • Technicians or experts in the industry who want to return home, • Ex-servicemen, • Higher education dropouts
– in order to train school dropouts, we can target higher education dropouts. These are often people with good soft skills & leadership skills who can be molded to become good trainers. Curricula: The University offers a credit based assessment & certification framework which is a unique differentiator in the skill development landscape. Curriculum for short vocational courses is aligned with existing affiliating agencies (MES/SSCs), which are either government bodies or industry bodies, and is modified in partnership with the industry.
Comments
comments