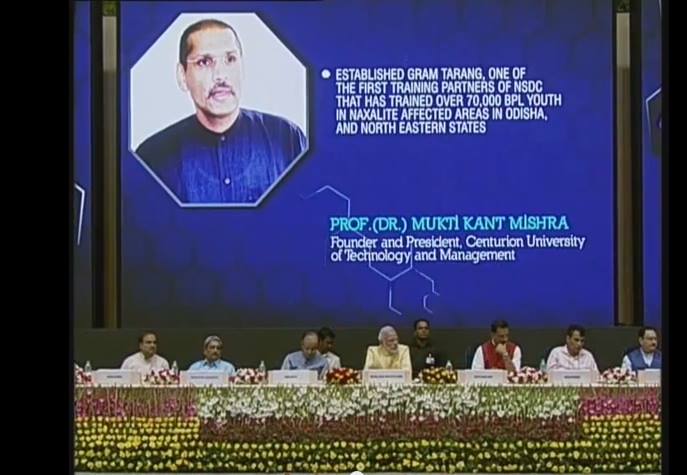 Centurion University was one of the privileged few institutions to be invited to take part in the Launch of National Skill Mission by the Prime Minister Narendra Modi on 15 July 2015.
This is an earned privilege in recognition of Centurion University's innovative skills development and training model that ensures skill with substance, scale with sustainability and speed with stability", by converging human values and learning on emotional front and teaching, training, production on professional front.
Mamina Nayak, Centurion University ITI (Electrical) received her appointment letter with Abhisek Consultants from the Prime Minister.  Kuna Patra Gram Tarang received the Bank of India loan approval for micro-entrepreneurship from the Prime Minister.
Prof Mukti Mishra, President of the University spoke on the august occasion highlighting the importance of skills development and vocalization of education for youth today.
He had stressed that skilling is the only tool that can guarantee socio-economic progress of the country. Vocational education and skills development enable the marginalised majority to find means to earn their livelihood with dignity and decency.
An assured income, whether this is through a job or through entrepreneurship will ensure that the youth of today become responsible and productive citizens of tomorrow.
The President also spoke about the skilling model followed by Centurion University – Gram Tarang as one which has been tested by time and found successful.
Based on training-through-production and hands-on learning this model guarantees employability within a period as short as 3 months.
The skilling courses of the University ranging from 3- 24 months are exclusively residential, ensuring 100% participation and guarantee building of competency, ability and capacity of the students.
"At Centurion University" said the President "we are under moral oath to make the religion of India "skilled India", convert "vicious cycle of poverty" to "virtuous cycle of prosperity" and link education to "employability, employment and entrepreneurship".
Comments
comments