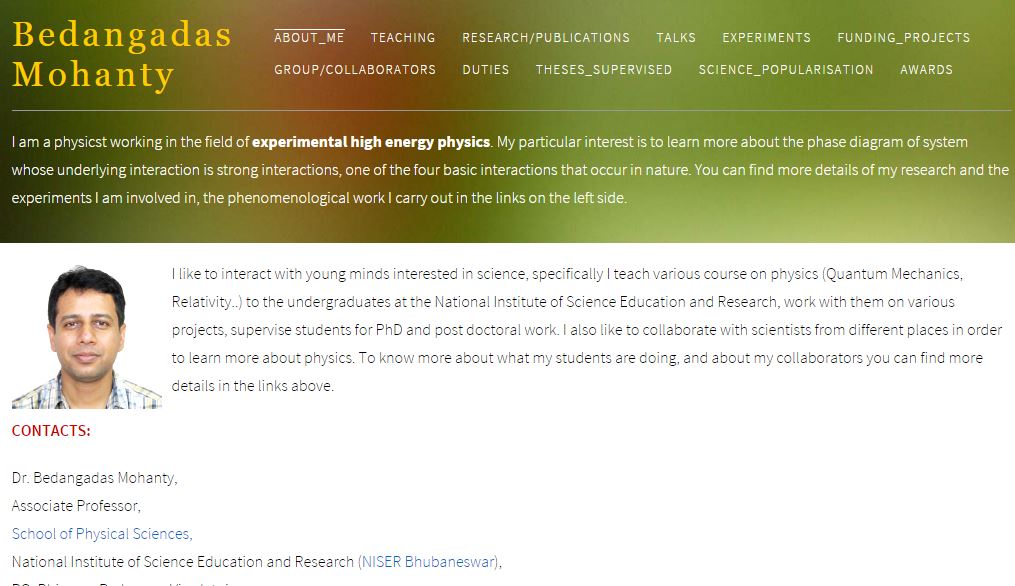 Prof. Bedangdas Mohanty of NISER Bhubaneswar is one of the recipient of the Shanti Swarup Bhatnagar Prize (SSB) for Science and Technology 2015. This is one of the highest awards in science in India. Congratulations!
Shanti Swarup Bhatnagar Prize
Regulations Governing the Award of the Shanti Swarup Bhatnagar Prize for Science and Technology
Preamble
The award is named after the founder Director of the Council of Scientific & Industrial Research (CSIR) India, the late Dr (Sir) Shanti Swarup Bhatnagar and is known as the 'Shanti Swarup Bhatnagar (SSB) Prize for Science and Technology'. The Prize is given each year for outstanding contributions to science and technology.
Nature of the Prize
SSB Prizes, each of the value of Rs 5,00,000 (Rupees five lakh only), are awarded annually for notable and outstanding research, applied or fundamental, in the following disciplines: (i) Biological Sciences, (ii) Chemical Sciences, (iii) Earth, Atmosphere, Ocean and Planetary Sciences, (iv) Engineering Sciences, (v) Mathematical Sciences, (vi) Medical Sciences and (vii) Physical Sciences.
Purpose
The purpose of the award is to recognise outstanding Indian work in science and technology.
Comments
comments