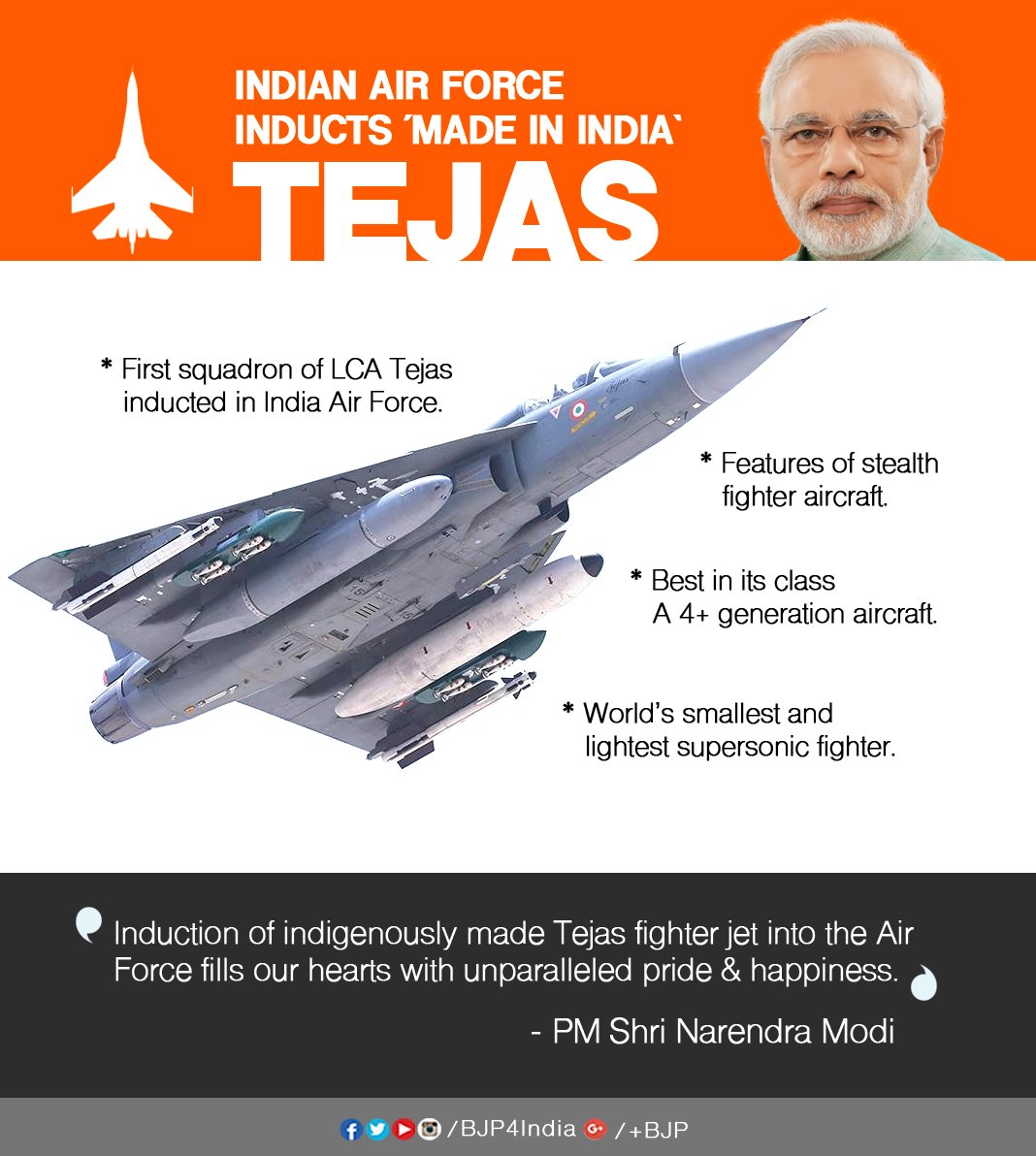 The Indian Air Force (IAF) on Friday scripted history as it achieved an Indian military aviation milestone via the induction of the first-ever squadron of the home-grown Light Combat Aircraft Tejas. It should be noted it is also the first time that a squadron was formed using only two jets.
Central Tool Room and Training Centre (CTTC) here celebrated the induction of India's first home-grown fighter jet 'Tejas' in the IAF today as critical assemblies for it were made at its production centre.
"CTTC's production centre at Bhubaneswar is making various critical assemblies of the fighter aircraft," said Sibasis Maity, Managing Director of CTTC Bhubaneswar, in a statement.
"Techies at the CTTC celebrated this historic occasion. The Centre is committed for the nation's development and defense," he said.
The Centre is supplying 23 different types of Fuel Line Replacement Units (LRUs), two varieties of Environmental Control System LRU and nine types of Hydraulic System Filter LRU to the Tejas Aircraft, he said.
It has already been supplying the same for various Technology Development (TD) series aircraft, Limited Series Production (LSP) aircraft and for the present newly-formed squadron of Indian Air force, Maity said.
CTTC is the only Aeronautical Development Agency and Centre for Military Airworthiness (CEMILAC) approved work centre for manufacturing, assembly and testing of Fuel System LRU, Environmental Control System LRU and Hydraulic System LRU of light combat aircraft, he said.
The centre is also the only non-defence public sector undertaking to have received the prestigious AFQMS certification from Director General of Aeronautical Quality Assurance (DGAQA), Ministry of Defence.
It has received order for supplying the LRU for the first 20 Tejas aircraft for Indian Air force, the statement said.
CTTC, Bhubaneswar has also supplied various critical space hardware for the successful launch of Chandrayan-I and Mars Orbiter Mission of ISRO, the statement added.
PTI
Read more from business standard
Did you know Bhubaneswar Buzz is only portal covering Odisha to have more than 14,000 followers (consistent) in top 3 Social media platforms i.e. Facebook,Twitter and Instagram
Bhubaneswar Buzz is available in 10 social media channels, check out all of them here
Did you know Odisha is first in India to host Asian Surf Championship
Like Us in Facebook to get more content like this
Comments
comments