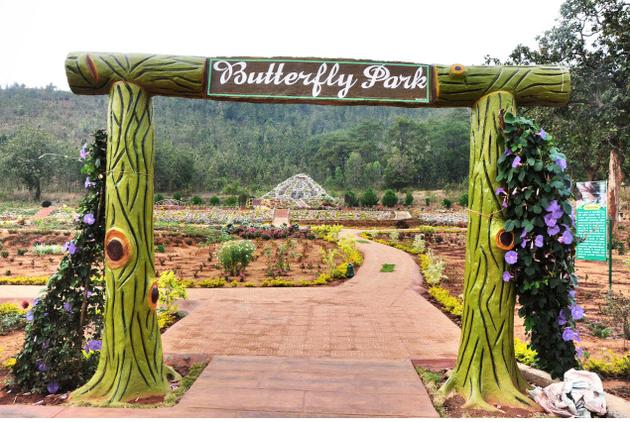 A nature park with special emphasis on conserving and showcasing butterflies as well as medicinal plants in their natural habitat has come up at Daringbadi of Kandhamal district, an important tourist destination known as Kashmir of Odisha.
Butterfly Park of Daringbadi is second of its kind after Nandankanan in Bhubaneswar. While the one at Nandankanan is a closed one, the one at Daringbadi is an open one making it unique. Here, the visitors can enjoy a variety of colourful butterflies in their natural surroundings to understand their significance in the ecosystem. Food and natural habitat have been provided for the butterflies to stay and breed. Plants like pentas, lantana, ixora, helicteres, barleria, nerium, jatropha, cosmos, zinnia, from which butterflies suck nectar, have been planted in large numbers. Butterflies have been provided shelter and breeding areas through plantation of plants like Tecoma stans, hibiscus, curry leaf, citrus, bauhinia, ficus, palm, mango, guava and bamboo in the upper part of the park behind the rockery.
Water flows from the rockery to the lily pond through water ways crisscrossing the park to provide natural habitat for the butterflies.
The medicinal garden now contains over 50 species of rare plants aesthetically planted with a statue of Charak in the background. A small auditorium has also been constructed for 3D shows on nature, environment and wild life conservation. On display are life-size models of wild animals and exhibits related to life and traditions of Kutia Kondh tribals who reside in Kandhamal district.
Did you know Bhubaneswar Buzz is only portal covering Odisha to have more than 11,000 followers consistent in top 3 Social media platforms i.e. Facebook,Twitter and Instagram
Bhubaneswar Buzz is available in 10 social media channels, check out all of them here
Did you know Odisha is first in India to host Asian Surf Championship
Like Us in Facebook to get more content like this
Comments
comments