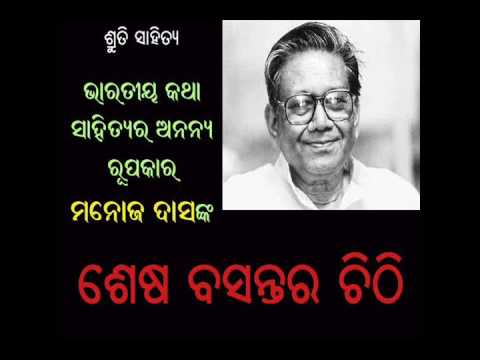 A legend runs like this : a young South Indian mystic learnt from his guru, the secret of liberation – which the guru imparted only to the eligible. However, in his eagerness to help the masses with the secret, he took  seat on a rock and shouted out the secret to all the passersby. Of course, he must have realized before long that his sermon will benefit only those who were already prepared within to receive it. This precisely describes the enthusiasm and motivation of the group of students of English literature and a few literary enthusiasts who are celebrating the golden jubilee of a short story in Odia , " Sesha Basantara Chithi". This spring, the author of the said classic, Sri Manoj Das, the legend, celebrates his 84th birthday (27 feb.). It's indeed a great spring to commemorate for us, the blessed readers! There is not an iota of doubt that the exclusive readers derive immense delight from the timeless creations of the bi-lingual writer.
What are the elements in his works that have so inspired the readers? First and foremost , they have led the readers to understand themselves  better, they have guided the readers to have a deeper understanding of the complexities of the human consciousness, the meaning of the predicament the readers face in life, the spirit of India , amongst their other contributions.
What is more, they leave a lasting impact on the readers' mind and feelings : strengthening the faith in Providence as well as in the ultimate destiny of man, promoting empathy and bringing solace ­­– and all this in an absolutely spontaneous way- of which the readers become conscious much later, since the impact of reading Manoj Das never weakens.
It is with that everlasting thrill that the readers celebrate the fiftieth year of the Odia classic through discussions , seminars and so on. Moreover, the reports say that all the efforts and endeavours of the readers are without the patronage of Government .  " Sesha Basantara Chithi ", the much loved and appreciated story is also transcreated in English  by the author himself ;" The Letter of the Last Spring" is compiled in the popular  anthology of fiction, 'The Bridge in the Moonlit Night and Other Stories'.This celebrated story is serialized in television in the past. A feature film  based on this story  has received  critical acclaim as well. Recently an audio version of the story was uploaded in Youtube under "Shruti Sahitya" category where one finds legendary creations of Odia literature.
At this point of time, when one feels intimidated by the overpowering electronic and digital influence, it is heartening   to note that young readers are celebrating a story which was written way back in the  sixties. May the  readers of Manoj Das' splendid horizon continue to share the light and delights  in grand manners in times to come.
Written by : saswati patnaik
Comments
comments