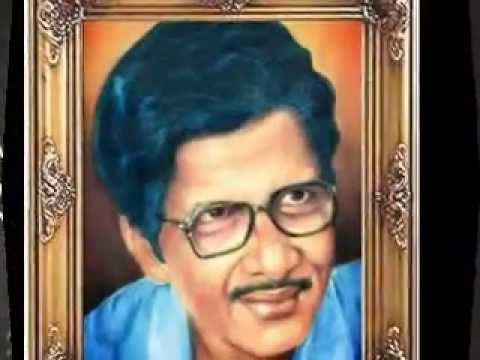 Today is the Birthday of the legendary Odia singer Akshaya Mohanty. Like Kishore Kumar, he was a virtuoso, a multifaceted artist. Though more famous as a versatile singer, the lyricist in him penned many songs. The all rounder in him arguably stood him above his contemporaries from his generation, which included a field of gifted talents.
KHOKA Bhai (his went by this alias), started singing and was at his peak during 1970s. During that time he made the cardinal mistake of quitting his government job to fully focus on his musical career. Unfortunately for him, he was from a state, better known as the graveyard of artistic pursuits, a milieu which harbors anathema towards anything but secured SARAKARI (government) jobs. He could have rubbed Clarified Butter on his mustache (NISARE GHIA MARI) and worked nonchalantly, nonstop till 58 and still doing amateur singing. But he took a risk to pursue his first love, music and paid big time for his decision.
He sang many Odia hits, his records sold well, he hugely popular and admired, yet his going pro did not fetch the remuneration to compensate his ability. By mid 80s he was nowhere and not exactly in great economic shape. He took to alcohol, which probably cut short his life and career.
Akshaya Mohanty visited America multiple times and enthralled the NROs (Non Resident Odias) with his nostalgic songs. My memory goes back to 1979, just back from America, he was quoted in the popular local daily SAMAJA, that even cats and dogs are better off in America. Soon came out a song composed and recorded by him, based on his American experience,
AMERICA RE PREMA HUE BEECH ROAD UPARE,
AAU CUTTACK RE PREMA HUE RASTHA PACHHARE.
India has come a long way since 1979, economically much advanced. The young generation since have lifted their veil of shyness, moved to parks and pubs, as hand pulled Rickshaws have given way to their Auto cousins.
Saluting the Maestro and wishing him a Happy Birthday, let me end my ode to him with this funny number, which he most probably penned himself,
"PREMIKARA BARIADE BAIDHANKA
AAU BICHHUATA BANA…
DEKHIBAKU MANA CHHANA CHHANA
KUNDAAI KUNDAAI GALA PRANA"..
Author : Sambeet Dash
Comments
comments