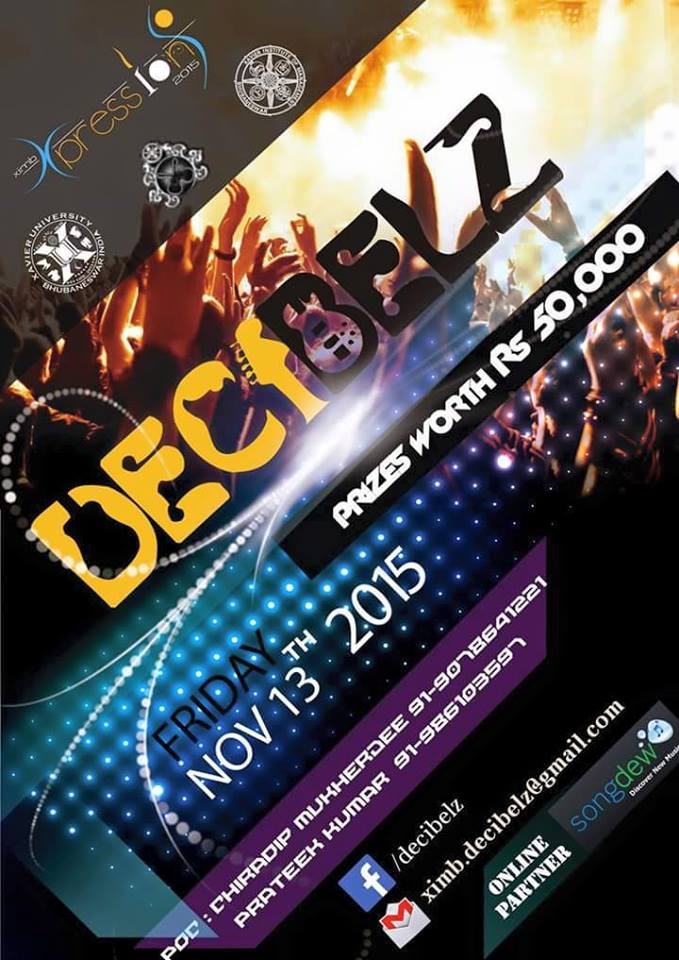 Decibelz is the flagship event of Xpressions where the biggest of bands battle it out for the coveted title. A celebration of the spirit of rock, this competition opens the floor for bands from all over the country to enthral audiences with some hard core rock. Witness country's top semi-professional rock bands perform their best. Feel the euphoria and let yourself loose to the rhythm of the music!
Registrations/Prelims
• Bands are required to create an account in SONGDEW and upload atleast 2 of their original compositions in the decibelz page on Songdew (click here).
• Bands are required to then mail the link of their songdew video to [email protected]
• Entries beyond 28th of October EOD will not be considered.
• Based on the performance, a total of 5 bands will be selected to perform in the finals.
Finals
• Every band will get 30 minutes time to perform including the set up time.
• The bands can play their ORIGINAL soundtracks only. No covers are allowed.
• The bands will be judged based on:
Creativity
Technicality
Crowd involvement
Energy
Band Tightness
• Bands will be required to get their own guitars, leads and distortion pads, etc. Only a standard drum set kit will be provided. They can bring their own cymbals (extra) and pedals if they need them.
• Smoking and drinking is strictly prohibited before and during the stage performance. This may lead to disqualification from the event in which case the assured amount shall also stand void.
• Any damage done to any property belonging to the college shall be borne by the band and its members.
• In case of any conflicts, all decisions lie in the hands of the college.
Comments
comments