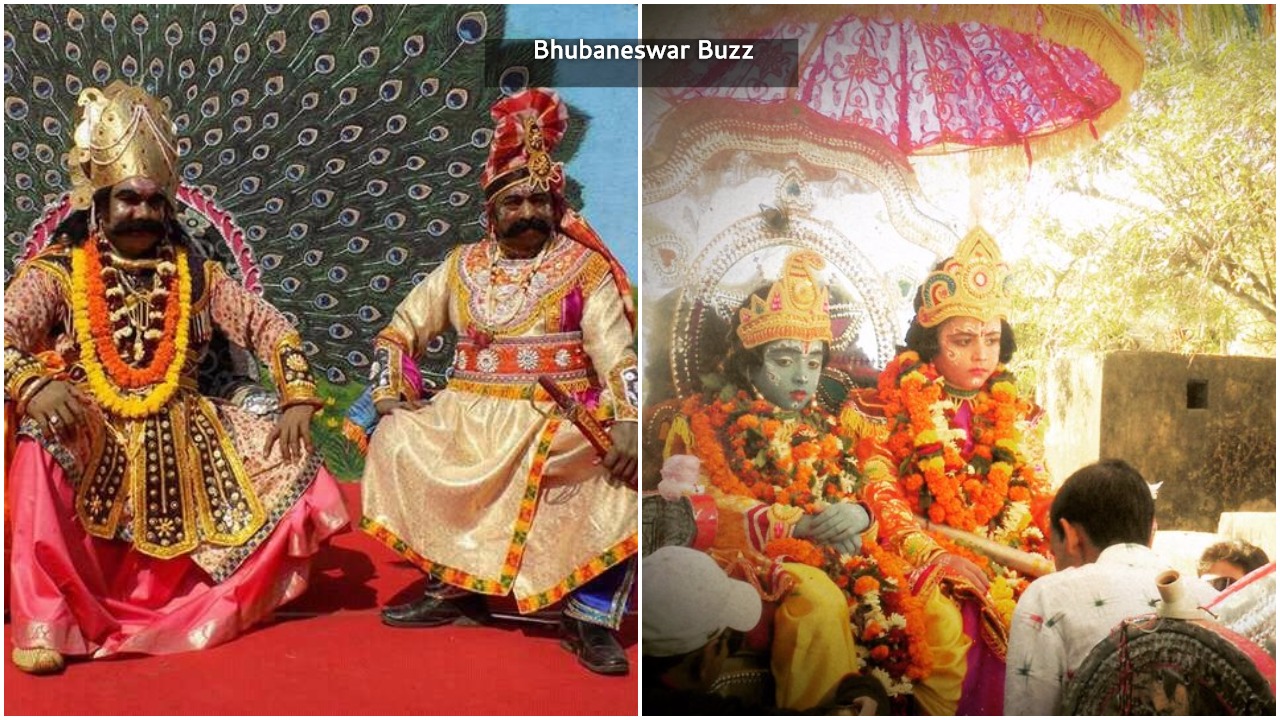 The district of Bargarh with picturesque mountain, perennial streams and falls and vast array of green forests offer some of the best tourists' attractions. It is not only a land of glorious historical sites and superb natural beauties but also a land of wonderful fairs and festivities which enrich the cultural heritage of Odisha. Dhanu Jatra for 2017 is all set to start from January 2nd 2017
Bargarh presents Dhanu Yatra, a widely acclaimed folk drama form. It represents the folk Little Tradition of this area. In this context, it may be said that Krushna cult of Hindu Great Tradition, which has influenced many forms of folk dramas in different parts of Odisha and India, has also tremendous influence on Dhanu Yatra. "Krushna-Leela" in Gopa-pura (present Ambapali village), "Mathura Vijaya" and "Kansa-Badha" in Mathura (present Bargarh town) are the main attractions of Dhanu Yatra. Kansa, however, is the centre of attraction and he prevails throughout the Yatra. It is known as "Dhanu" Yatra because it is observed in the Dhanu (Pousa) month between the 'Dhanu Sankranti' and 'Makara Sankranti'. Secondly, from mythological point of view, Kansa had invited Krushna and Balaram on the occasion of Dhanu Yatra with a hidden intention of killing them during the Yatra. Hence, it is known as Dhanu Yatra.
As mentioned above, it is organised in the Hindu month of Dhanu/Pousa (DecemberJanuary). It is celebrated from Pousa Sukla Sasthi Tithi i.e. sixth day of bright fortnight of Pousa to Pousa Purnima i.e. the full moon day of Pousa. Accordingly, it is carried out for ten to eleven days continuously. It is an integral part of culture of Bargarh. It not only helps in preserving our ancient heritage but also helps in disseminating our old tradition. It is believed that Dhanu Yatra began in the year 1948 immediately after independence. It was the consequences of freedom and self-rule as a show charged with nationalistic passion and zeal. In this sense, Kansa represented the imperialist power on its way out and KrushnaBalaram stood for the patriotic aspiration of the common mass.
Dhanu Yatra is remarkable and distinguishable from the rest in every respect. This is amazing and extra-ordinary in its content and form. It is significant and noteworthy in sense and style. It is astonishing and astounding in grace and grandeur. It is perhaps the biggest open-air folk drama in the known history of the world though the origin of folk drama in West Odisha is yet to be discovered. Though the origin of this folk drama style is shrouded in mystery, Dhanu Yatra of Bargarh has been gaining wider recognition as a folk drama.
Dhanu Yatra is a theatrical representation of a Pouranic myth 'Krushna Leela'. Various events, right from the wedding ceremony of Devaki with Basudeva to the fatal death of Kansa Maharaja as depicted in various Hindu scriptures are enacted to bring the old myth alive in different locations of Bargarh town and Ambapali village. In other words, the Krushna cult which has influenced many forms of folk dramas in different parts of India has not lost its spiritual content in case of Dhanu Yatra. In fact, Dhanu Yatra has placed Bargarh in particular and Odisha in general in the cultural map of the country.
Written by Dr. Chitrasen Pasayat
Comments
comments