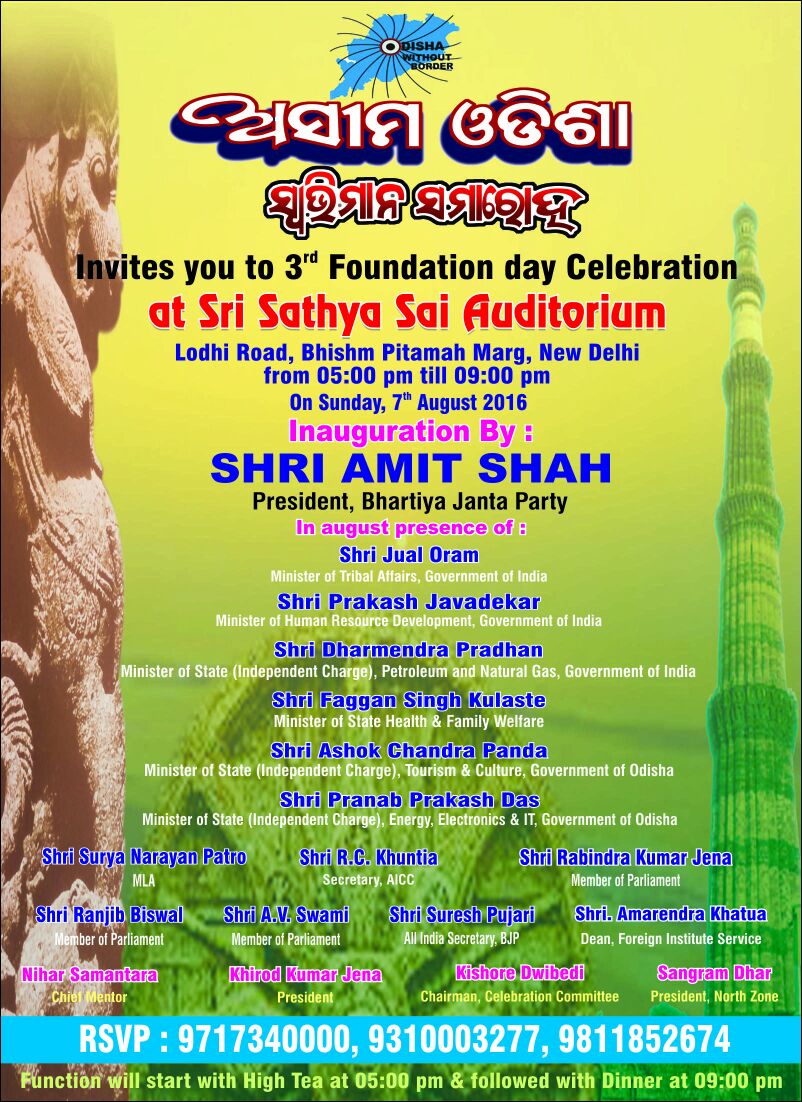 We take the pleasure in introducing 'Odisha without Border' (OwB), the apex organisation of all Odia organisations worldwide and a Civil Society Think-tank, an apolitical body aiming at uniting all Odias across the globe for the development of Odisha and the benefit of Odias. It has planned to celebrate its 3rd Foundation Day with National Conclave of Odias' on 7th August 2016 (Sunday) at at Shri Satya Sai Auditorium, Lodhi Road, Bhishm Pitamah Marg, New Delhi- 110003, as SWAVIMAN SAMAROH – a Chintan Baithak for better social upliftment of Odias across globe.
  'Odisha without Border' (OwB):
August 9, 2013 was a historic day for all Pravasi Odias (Odia Diaspora) as 42 Odia Socio-Cultural Organisations from across India assembled on a single platform for the first time in the knowledge capital of the country and the silicon valley of Asia – Bangalore. The coming together of these Odia leaders gave birth to the visionary noble idea that was aptly christened as 'Odisha without Border' –
Aseema Odisha – with a prime objective of uniting all Odias for united voice, leveraging on their collective strengths for the development of Odisha and benefiting its people globally. OwB also works on the brand building exercise and for national integrity.
3rd National Conclave & OwB Foundation Day – SWAVIMAN SAMAROH :  a Chintan Baithak 
This National Conclave and 3rd OwB Foundation Day will be inaugurated by VVIPs in the presence of eminent Odia leaders, corporate honchos, entrepreneurs, economists, scientists, health experts, political leaders and bureaucrats, litterateurs, academicians, media personalities, cultural ambassadors, movie actors and intellectuals besides the national Executive Council (EC) members and life members and leaders of all leading Odia socio-cultural-economic associations and organizations from across the country.
This conclave shall create a great occasion for the thought leaders, subject experts and the delegates to churn on salient issues and develop a roadmap for the holistic development of Odisha. New Delhi has been selected to host this mega national event on 7th August 2016 on a grand scale.
Comments
comments