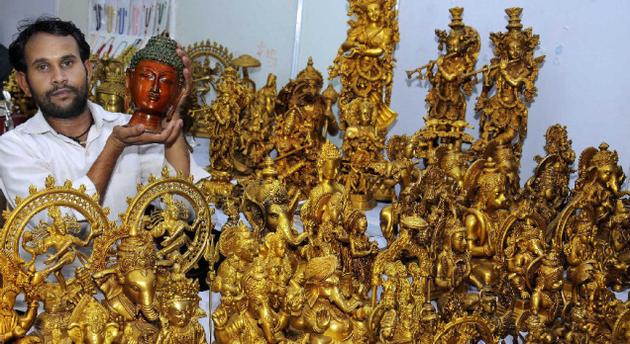 Browsing around 'Odisha Handicrafts and Handlooms Expo' can throw up some rare and intriguing craft gems – such as the one-foot buffalo horn 'jhingri maachi' with a glistening agate-like body and elegantly curved fins; Manipur's ancient Longpi black pottery; Kannur's soft, organic table and bed linen; and the 3 ft Buddhas in 'dhyan mudra' wrapped in 'sangathi' carved with the story of his life.
Madhubani folk art panels and Odisha's Patachitra done on bottles, boxes and coconut shells offer new art expressions. Niranjan's 'Coronation of Rama' is Patachitra at its poetic best.
There are also Assam's cane and bamboo sofa sets, moorhas and corner stands. The saris and textiles come from Varanasi, Bhagalpur, West Bengal, Gujarat and Kashmir with embroideries such as Kantha, Ari and Kashida work from Srinagar. Especially evocative are the Sambhalpuri ikat saris from Odisha. Odisha Handicrafts and Handlooms Expo is on at Valluvar Kottam, Nungambakkam High Road till September 28.
The Odisha Handicrafts and Handlooms Expo also displays products from other states.
Courtesy: The Hindu
Comments
comments