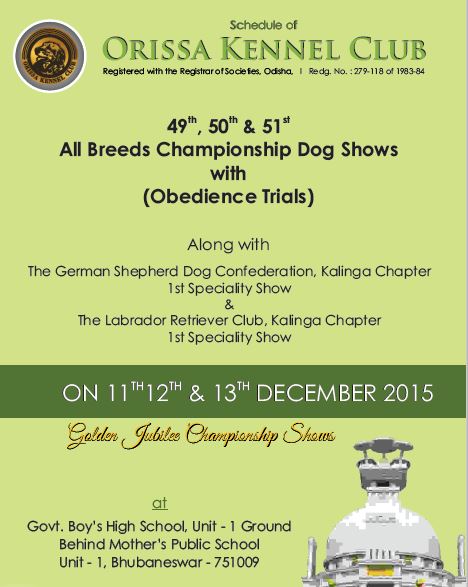 Orissa Kennel Club affiliated to the Kennel Club of India is organizing its 49th, 50th & 51st All Breeds Dog Show at Bhubaneswar on 11th, 12th & 13th Dec 2015. This is a National Level Show and dogs from all over India will be participating in this show.
The Orissa Kennel Club formed in 1983, has been consistently involved in various canine activities in the state of Odisha for over thirty years or so, like humane control of urban stray dog population, Save your Dogs Ears campaign, Anti Rabies workshops and vaccination camps etc. We are also one of the few Clubs in the country that run regular vocational Train the Trainer programme, which offers and provides self employment opportunities to educated and unemployed youth of the state. Amongst our future projects are setting up of a multi-utility Diagnostic Centre for pets as well as an Electric Crematorium to pet owners in Bhubaneswar.
It is also pertinent to mention the fact that the Kennel Club of India has authorised setting up of an Obedience & Agility Club at Bhubaneswar, to give a boost to raising the level of Obedience Training along with introduction of IPO Trials and Agility Trials in the country. Keeping in mind the huge popularity and interest in German Shepherds and Labrador Retrievers, two new breed Speciality Clubs have been promoted recently.
This year our Club will be celebrating its Golden Jubilee Show along with a German Shepherd Dog Speciality and a Labrador Retriever Speciality Show on the 11th, 12th & 13th of December, 2015, at Bhubaneswar, with five to six international Judges of repute officiating. This will be a huge event for the doggy fraternity in the country most of whom are already excited about the event.
Comments
comments