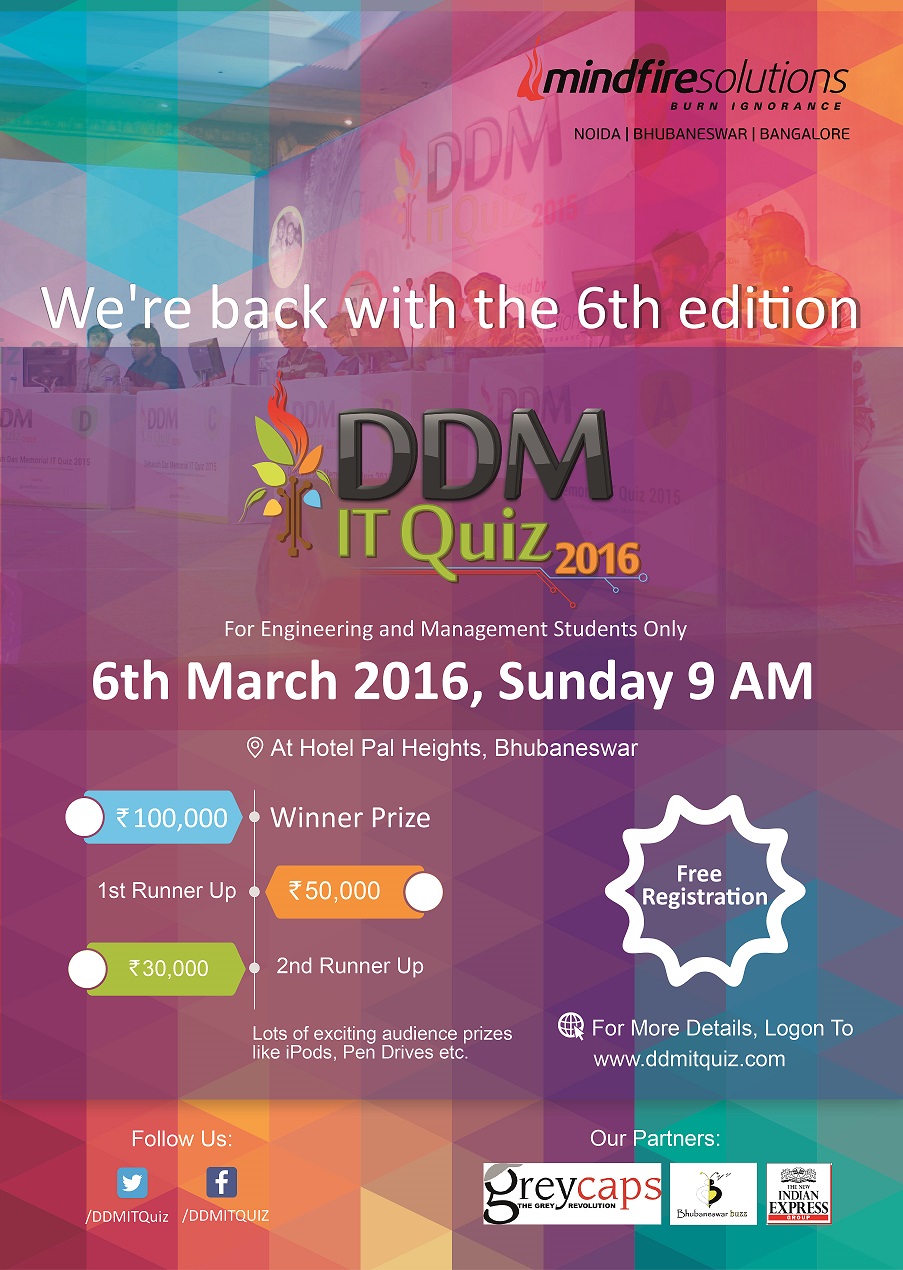 Mindfire Solutions is back with its 6th edition of the DDM IT QUIZ.
Love quizzing? Well here's a chance for you to test your skills, compete and achieve success for yourself and your prestigious institutions. DDM IT Quiz combines your passion for quizzing with lots of exciting prizes and presents it in a national level event.
This year the DDM IT Quiz will be held at Hotel Pal Heights, Bhubaneswar on the 6th of March 2016. It's a one day event and there is NO REGISTRATION FEE. However, interested participants are requested to manage their travel and accommodation on their own.
Winner: Prize worth of INR 100,000
Runner-Up-1: Prize worth of INR 50,000
Runner-Up-2: Prize worth of INR 30,000
Apart from that, there is a gamut of audience prizes like iPod, Pen drives, T-shirts etc to be won.
Eligibility – Anyone is pursuing Engineering or Management education, across the nation.
DDM IT Quiz is hosted every year in the loving memory of the late Debasish Das who unfortunately met his end in a fatal road accident. It was his dream to organize a mega quiz event which provides an excellent learning opportunity and a much needed exposure to the budding talents. This idea led to the origin of the "Debasish Das Memorial IT quiz" which is held every year since 2011.
So what are you waiting for? Registration is now open.
For more details, please visit www.ddmitquiz.com.
Keep yourself updated with our Facebook Page https://www.facebook.com/DDMITQUIZ/ and follow us on twitter https://twitter.com/DDMITQuiz
About Mindfire Solutions
Mindfire Solutions is a global information technology solutions company and a leading service provider of IT solutions. With employee strength of 700+, Mindfire Solutions has centers in Noida, Bhubaneswar and Bangalore.
To know more about Mindfire Solutions please visit www.mindfiresolutions.com
Happy Quizzing!
Comments
comments