At: 
Orissa Modern Art Gallery, Forest Park, Bhubaneswar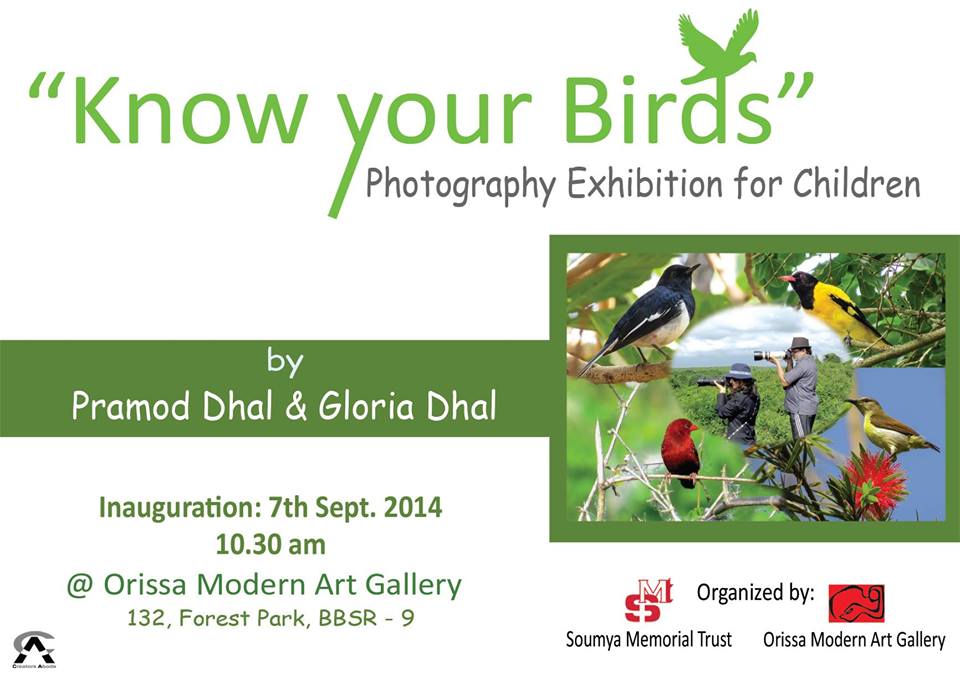 Orissa Modern Art Gallery and Soumya Memorial Trust are jointly organizing an exhibition, "KNOW YOUR BIRDS", for children, showcasing 100 number images of different bird species including six variety of Kingfishers, threatened species like Wooly-necked Stork, beautiful Malkoha & colourful migrated flying Ducks, photographed  at various locations of Odisha. Please bring your children and let them ask & learn the interesting facts about each bird, its behaviour and its habitat & habitat conservation!!
The beautiful feathered friends throughout history have been seen as symbols of grace, peace, hope, trust, beauty and freedom. Among the 9865 species of birds, they have well distributed functions from pollinating the forests and greeneries in the cities, to maintaining a fine balance of riverine ecosystems and lakes. Some of them are scavengers, cleaning up our systems, while some manage to check the reptilian communities and others migrate long distances between the polar zones to tropics , bringing in a whole lot of benefit to the farm sectors. They have been friends with human for a long time, carrying their messages and staying near us to indicate the environmental conditions around. Now come, let us join hands to protect them !!!!!!!!!
Courtesy: Pramod Dhal
Comments
comments