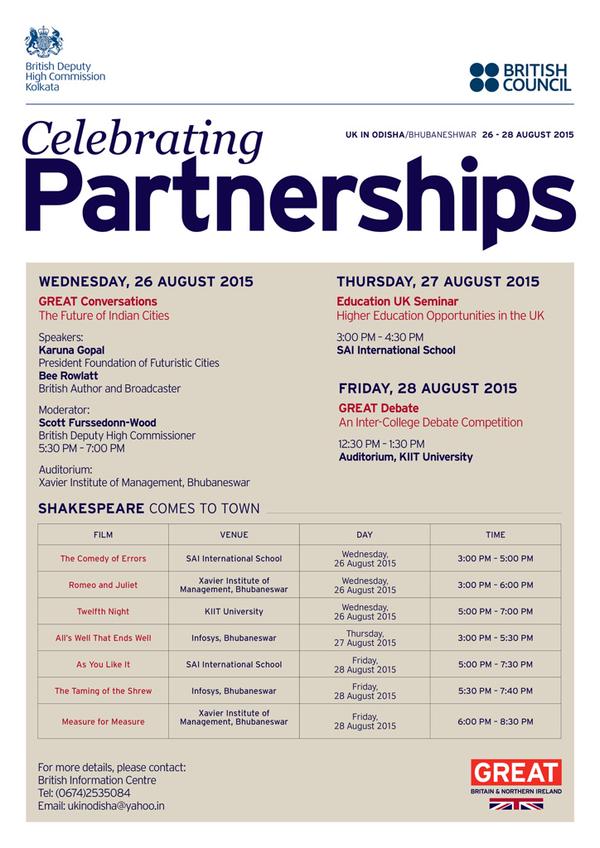 The UK is organising a series of events to strengthen the partnership with Odisha 26-28 August.
Titled 'Celebrating Partnerships – UK in Odisha,' the campaign will run from 26-28 August with a number of events to showcase UK expertise and take forward the Odisha-UK partnership especially in the areas of education, urbanisation and tackling climate change. The event is being organised by the British Deputy High Commission and the British Council Kolkata.
The Hon'ble Chief Minister of Odisha, Naveen Patnaik, will inaugurate the campaign in the presence of UK Minister of State for International Development (DFID), the Rt Hon Desmond Swayne MP on 26 August.
The British Deputy High Commissioner Kolkata, Scott Furssedonn-Wood is leading a delegation of UK companies specialising in urbanisation and smart cities, climate change specialists and UK education experts to participate in the various events.
GREAT Conversations: The future of Indian cities, Wednesday 26 August
Venue: Xavier Institute of Management
Registration: 5.30 pm-6.00 pm
Event: 6.00 pm-7.15 pm
Contact: Suhani Arora: 096742-55884
GREAT Conversations is a lecture series organised by British Deputy High Commission Kolkata which features influential Indian and British thought leaders. The aim of the lecture series is to give Indian audiences an opportunity to interact with some of the best minds in India and the UK and to provide a platform for public debate and discussion on topical issues. The theme of the Bhubaneswar edition is the future of India's cities and the speakers are Karuna Gopal, President, Foundation for Future Cities and Bee Rowlatt, British writer and journalist.
UKTI programme and Roundtable on Smart Cities and Urbanisation, Wednesday 26 August
Venue: Board Room, Mayfair Convention
Event: 2.30 pm – 4.30 pm
Contact: Rishikesh Chanda: 086975-66890, 098310-36725 and Sejuti Jha: 080177-70112.
While the roundtable will be private, participants will be happy to talk to the media after the event.
More than 10 UK companies will visit Bhubaneswar to attend a roundtable with Odisha government officials and have separate meetings with their Odisha counterparts. The roundtable will promote UK's expertise in sustainable urbanisation, and showcase UK's offering in areas like master-planning, smart urban technologies, waste and water management and climate-friendly urban development.
Seminar on UK-Odisha partnership on tackling climate change, Thursday 27 August
Venue: Crystal Hall, Mayfair Convention Centre
Registration: 10.30 am-11.00 am
Event: 11.00 am-1.30 pm
Contact: Mohammed Kazim Rizvi: 088820-04173 and Haimanti Poddar: 098314-77692
His Excellency the Governor of Odisha, S C Jamir, is scheduled to inaugurate the event.
Education UK Seminar, Thursday 27 August
Venue: SAI International School
Event: 3.00 PM-4.30 PM
Contact: Shonali Ganguli: 098365-69944
The British Council will hold an education UK seminar on 'Higher Education Opportunities in the UK'. Students will learn about studying and living in the UK, student visas, scholarships and much more. Interested individuals will be able to speak to representatives of the British Council and learn more about their areas of interest, in addition to watching 'There's never been a better time to study in the UK' – a short film that captures life changing experiences of UK education through the voices of students currently studying in the UK. In addition a short quiz on the UK will be held after the seminar with a chance to win prizes.
Odisha Rugby World Cup Jamboree 2015, Thursday 27 August
Venue: KIIT Grounds
Event: 2.00 PM onwards.
Contact: Paul Walsh: 098300-09641
The UK is supporting sports and educational life empowering charity Jungle Crows Foundation to organise a 'Odisha Rugby World Cup Jamboree 2015'. Eight teams of Bhubaneswar school girls and boys will play their own version of the Rugby World 2015 which will take place in England in September and October this year.
GREAT Debate: Friday 28 August
Venue: KIIT University
Event: 12.00 PM-1.30 PM
Contact: Shonali Ganguli: 098365-69944 and Suhani Arora: 096742-55884
The GREAT Debate is an inter-college competition that celebrates the UK and India's shared culture of vibrant intellectual discussion and debate. Organised by the British High Commission, the GREAT Debate competition is the biggest since its conception. In its third edition, the competition will be organised in ten cities – Bhubaneswar, Bengaluru, Chennai, Ahmedabad, Hyderabad, Delhi, Kolkata, Mumbai, Chandigarh and Jaipur. The winning team from Bhubaneswar will participate in the grand finale in New Delhi in January 2016. The winning team from the national finals will be offered a week-long study tour to the UK, which will include visits to historical sites, academic institutions and cultural events, as well as meetings with British students.
Shakespeare Lives – Film screenings
Contact: Shonali Ganguli: 098365-69944
The British Council will be holding a global programme of events and activities titled Shakespeare Lives celebrating Shakespeare's life on the occasion of the 400th anniversary of his death in 2016. As part of this initiative a festival of Shakespeare films is being held in schools and colleges in Bhubaneswar.
Following is the screening schedule:
26 August: The Comedy of Errors; 3:00 pm – 5:00 pm; SAI International School Twelfth Night; 5:00 pm – 7:00 pm; KIIT University
27 August: All's Well That Ends Well; 3:00 pm – 5:30 pm; Infosys Romeo and Juliet; 3:00 pm – 6:00 pm; Xavier Institute of Management
28 August: As You Like It; 5:00 pm – 7:30 pm; SAI International School The Taming of the Shrew; 5:30 pm – 7:40 pm; Infosys Measure for Measure; 6:00 pm – 8:30 pm; Xavier Institute of Management
For more details : Event on UK in India website
Comments
comments