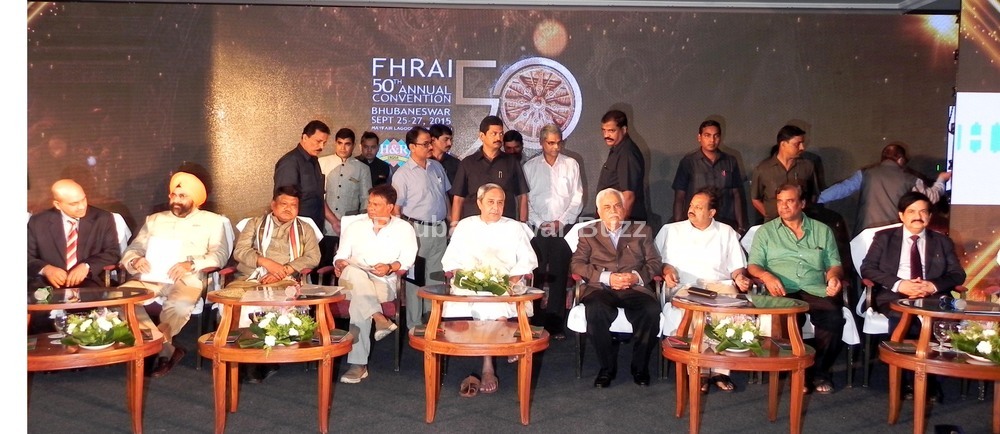 The Golden Jubilee Annual Convention of The Federation of Hotel and Restaurant Associations of India (FHRAI), an apex body of four regional associations representing the Indian hospitality industry, commenced today at Bhubaneswar with participation of over 800 delegates from top echelons of the hospitality and tourism industry in India. The convention was formally inaugurated by Hon'ble Chief Minister of Odisha Shri Naveen Patnaik in the presence of Union Minister for Tribal Affairs Mr. Jual Oram, Union Minister of State (I/C) for Culture and Tourism Dr. Mahesh Sharma, Union Minister for Skill Development and Entrepreneurship Mr. Rajiv Pratap Rudy, Odisha Industries, School & Mass Education Minister Mr. Debi Prasad Mishra, Chief Patron of the event Shri Ashok Chandra Panda, Hon'ble Minister for Tourism and Culture, Government of Odisha , Karnatak Minister of Tourism and Heavy Industries Mr. R V Deshpande, FHRAI President Mr. T S Walia, Union Tourism Secretary Mr. Vinod Zutshi, Convention organising committee Chairman Mr. Dilip Ray, Treasurer FHRAI and President of HAREI (Hotel & Restaurant Association of East India) Mr. Sudesh Poddar.
Addressing the convention, Odisha Chief Minister Naveen Patnaik said "Odisha is a fascinating state with old world charm and modern world glamour. Stating that Odisha offers tremendous scope for tourism development, my Government will provide all facilities to promote and market Odisha as a preferred destination for tourists." Asserting that the state has immense tourism potential which needs to be explored, he urged the hospitality sector representatives at the convention to take advantage of all this and exploit this fresh potential. The state has an attractive industry friendly Tourism Policy and the State Government has launched New Industrial Policy Resolution 2015 which will give a boost to the industry and thrust to tourism, he added. He also stated that for speedy clearance of tourism projects on fast track basis the Government has set up Single Window Clearance Committee at different levels. Stating that Tourism is capable of becoming the flagship of Odisha's economy, he asserted that the state Government has taken Tourism as a priority sector for economic growth and Odisha Tourism Department has been participating in a series of Domestic & Overseas Tourism Events & Fairs, organizing Road shows to make Odisha a preferred destination.
Addressing the Golden Jubilee Convention of FHRAI, Union Minister for Tourism and Culture Dr. Mahesh Sharma said "You are taking the dream of Hon'ble Prime Minister Shri Narendra Modi forward as he is the greatest ambassador of Tourism in India. He has already talked about the tourism potential of India during his address from the Red fort and from abroad. We want the hospitality industry, stakeholders and the government to make it a win-win situation for all. We believe that promoting tourism cannot be the govt job only, although we have the vision to do it."
He also informed the stakeholders from hospitality industry that the Government is actively considering the proposal of FHRAI towards according infrastructure status to the hospitality industry and the Tourism Ministry has put up a note in this regard to the Government of India which is now with the Cabinet Committee on Economic Affairs (CCEA). It proposes to bring down the present infrastructure lending limits on building hotels and convention centres.
Emphasizing on developing connectivity with the NE States, he said that, "We also need to improve the connectivity to the remote areas, Himalayan states, and NE states to explore the tourism potential there. Special directions have been given to the officials to go there and stay overnight and explore the options."
Speaking about a comprehensive association of Government with the stakeholders he said "The government is focussing on three main themes Cleanliness, Security & Safety and Hospitality for development of Tourism sector in India. We need the partnership of stakeholders, along with support of new technical innovations. In short, we want to make it the most happening industry today, as it is one of the highest foreign exchange generator and employment generator too. The govt promises to address any neglected or delayed issue within a proper time frame so that we can reach the target of sharing 1% of world tourism market. This target is not big and can be achieved with our unified efforts."
Addressing the gathering Odisha Tourism & Culture Minister Mr. Ashok Chandra Panda said 'Odisha is bestowed with immense diversities and huge untapped potential for development of hospitality and tourism sector. The nearly 500 km coast line, rich heritage with architectural marvels, iconic Buddhist heritage sites, rich wildlife, water bodies and eco tourism destinations, cultural veracity and wide spectrum of tribal lifestyle, all makes for wonderful opportunities for untapped development and growth.
He also urged Union Minister for Tourism & Culture Dr. Mahesh Sharma for single window clearance of tourism and hospitality sector development projects along with taking up dedicated projects under central Govt. schemes in Odisha. Adding to it he also urged the Union Minister who is in charge of Civil Aviation Ministry to facilitate direct flights from Bhubaneswar to heritage cities like Varanasi as well as to states like Kerala and Goa which has been a long standing demand of the state.
Speaking on the FHRAI Golden Jubilee Convention Shri Tejinder Singh Walia, President FHRAI said, "It is a proud privilege for FHRAI that for the first time FHRAI convention is being held in a tier-II city in eastern India. Besides the regional growth perspective, the three day convention will be significant nationally as it will discus, debate and deliberate upon the growth opportunities along with major issues concerning the industry in terms of policies, multiple taxation and possible impact of GST on the industry, inordinate delay in approvals and licensing conditions etc. The long standing demand on the industry to be accorded infrastructure status is also expected to gain prominence at this event. The thirteen states and a union territory comprising the eastern India have immense tourism potential and we are confident that this event will be a catalyst for the growth of tourism in the region."
Earlier in the day Odisha Tourism Minister Ashok Chandra Panda unveiled the Odisha 3D Map at Biju Patnaik International Airport. A special handicraft exhibition 'Pipili Bazaar' showcasing rich handicraft products of Odisha was also inaugurated during the occasion at Mayfair Convention, Bhuabneswar.
The first technical session of the convention 'Atithi Devo Bhava: The legacy continues' of the golden jubilee convention was inaugurated by the Hon'ble Chief Secretary of Odisha Mr. Gokul Chandra Pati in the afternoon session of the convention today. The panellists presented a comparison on the nature of the hospitality as service in India and abroad. Moderating the technical session veteran Actor Victor Banerjee expressing great happiness said that "Odisha is culturally rich state with abounding wild life, aqua life, rich architecture and many more assets. And is probably the best place for organising such a grand convention." Bollywood actor Gulsan Grover said "there is a different kind of hospitality in India where you can feel personal touch. But, this is not seen in other countries." Subhasis Ganguli, Director, Inox Leisure Ltd, said the hospitality industry has to keep its pace and momentum to provide better services to the customers. He cited the example of South Asia saying that they are providing better service against Indian hospitality industry. Bollywood actress Mahima Choudhry said more women should be employed in hotel industry so that women would feel safer and their needs get addressed properly.
The second technical session of the day deliberated upon the crucial aspect of 'Taxation in Indian Hospitality Industry-Challenges and Solutions'. The panellists were unanimous in the view that taxes on hotel and hospitality industry are very high at present resulting in exorbitant price of different products.
About FHRAI
Spread across the country, FHRAI has 3,876 members comprising 2,557 hotels, 1,216 restaurants, 99 associate members and four regional associations. The wide membership base makes it the world's third largest association of its kind. It is the voice of the hospitality industry in India, which directly provides employment to more than 17 million people.
FHRAI is committed to the industry's progress and through its various activities like education and training, research and publications and annual convention to promote interaction with the Government, regulators and other stakeholders.
Comments
comments