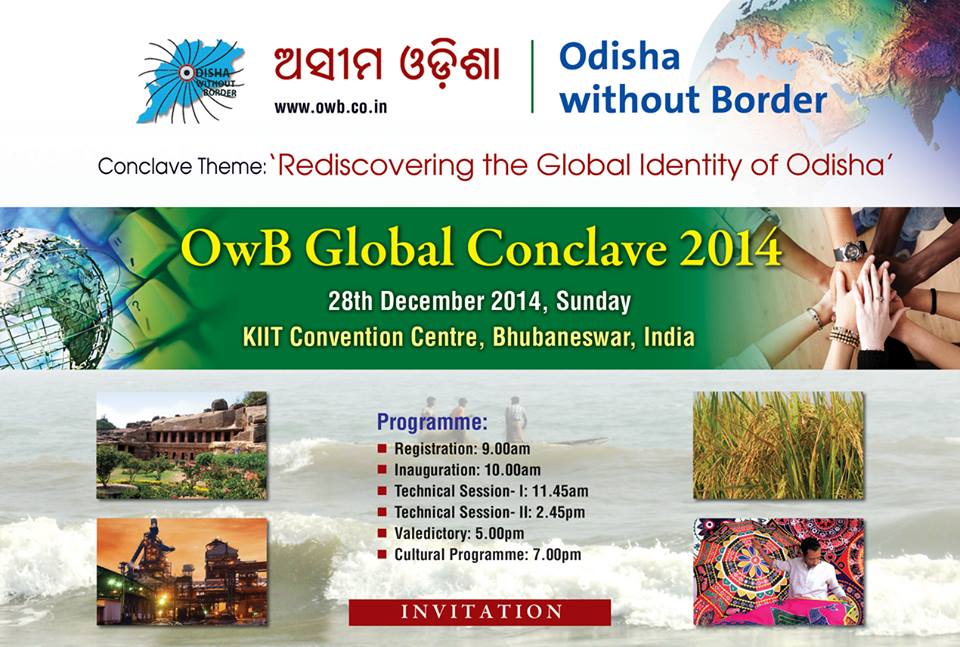 Welcome all proud & progressive thinking Odias to the first ever GLOBAL ODIAS CONCLAVE on December 28, 2014 (Sunday) at KIIT Convention Hall, Bhubaneswar, Odisha Global Odia Conclave by Odisha Without Border (www.owb.co.in), the Confederation of all Odia associations across the globe with an objective of uniting Odias with progressive thinking.
This historical assembly of all eminent Odias from all over the world would discuss and design a road map towards a resurgent Odisha. The Conclave Theme is: "REDISCOVERING THE GLOBAL IDENTITY OF ODISHA – A CALL FOR ACTION." This one day global conclave will have two sessions of Panel Discussion on the following important topics:
a. EXPLORING ECONOMIC AVENUES THROUGH ENTREPRENEURSHIP & SKILL SET DEVELOPMENT.
b. OPTIMIZING BRAND ODISHA – THINK GLOBAL, ACT LOCAL.
Very eminent speakers and thought leaders from different walks of life from all over the world have given their kind consent to speak & discuss on these very relevant topics sharing their rich knowledge & global experience while suggesting the way forward. This will design and create the road map for OwB to follow soon and implement the same in the state.
To be inaugurated and concluded by respected leaders from the center and the state with eminent personalities in attendance. The day will conclude with a glittering cultural program with popular artists from the state.
Odias will create history in Odisha on 28th December'14. Come & be a part of the golden moment and with pride that will optimize Brand Odisha with positivism commanding respect among all.
Come and join us in celebrating Odisha with pride. Together WE Can!
Bande Utkala Janani. Jai Hind.
Comments
comments