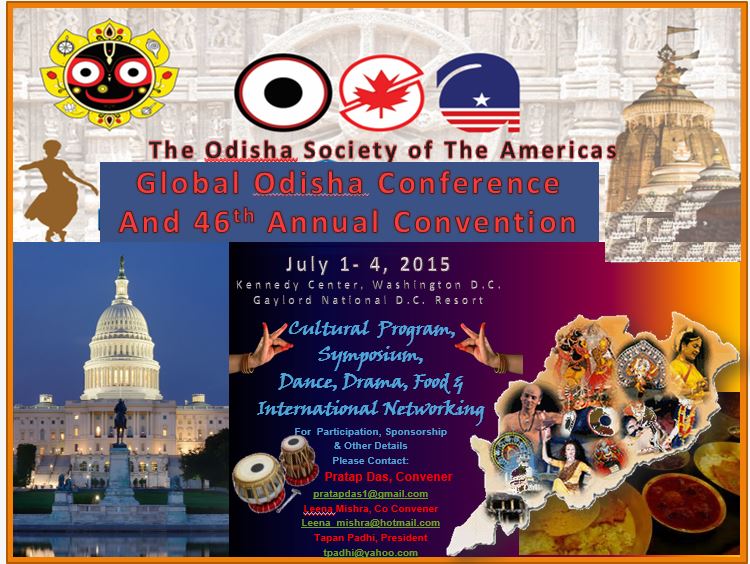 As part of the Global Odisha Symposium 2015, there will be following world-wide competitions on topics related to Tourism and Promotion of Odisha.
Competition 1: Promotional Dossiers (similar to ones in http://www.inklive.com/emagazines/hemispheres-dossier/) on
(a) Odisha capital area
(b) Other parts of Odisha or Odisha as a whole.
Top prize in each part: At least $500 (Could be as high as $1000)
Competition 2: Odisha Street-Makeover Designs
(a) Design for makeover of streets around Lingaraj Temple and Bindusagar
(b) Design for makeover of a happening street in Odisha Top prize in each part: At least $400 (Could be as high as $800)
Competition 3: Travelogues and Legends about Odisha Tourist and Cultural Sites
(a) Travelogue about Odisha places
(b) Legends about Odisha sites, with special focus on Lalitagiri-Ratnagiri-Udayagiri Diamond Triangle. Top prize in each part: At least $300 (Could be as high as $600)
Eligibility for each of the competitions are: To participate in this competition one must have sent email to the CM, the central ministers from Odisha and the Ministry of Civil Aviation requesting them to start direct international flights to/from Bhubaneswar at the earliest. The rationale behind this condition is related to our overall goal of promoting Odisha and Bhubaneswar as a destination for investment and tourism. We believe that international flight connectivity is a very important aspect of both. Currently, although the Bhubaneswar airport has been declared as an international airport by the previous government, the current government has not yet given permission to interested airlines to start flying internationally to/from Bhubaneswar. Hence, to help bring international air connectivity to Odisha, we have created the above eligibility condition of sending emails to the governments. The email should be signed by at least 10 different persons with different addresses. We recommend more signatures, but 10 are sufficient for eligibility. For proof, a copy of this email should be uploaded together with the competition entry.
Dates:
Registration to participate in the competition: April 15, 2015
Submission of entries: May 15, 2015
Announcement of Top 10 or Top 10% (whichever is more) entries: June 5, 2015
Submission of a youtube video or a ppt presentation: June 15, 2015
Presentation at the Global Odisha Conference: July 1-2, 2015
Announcement of top awards: July 2, 2015
More details on these will be available at http://globalodishaconference.com/.
Comments
comments