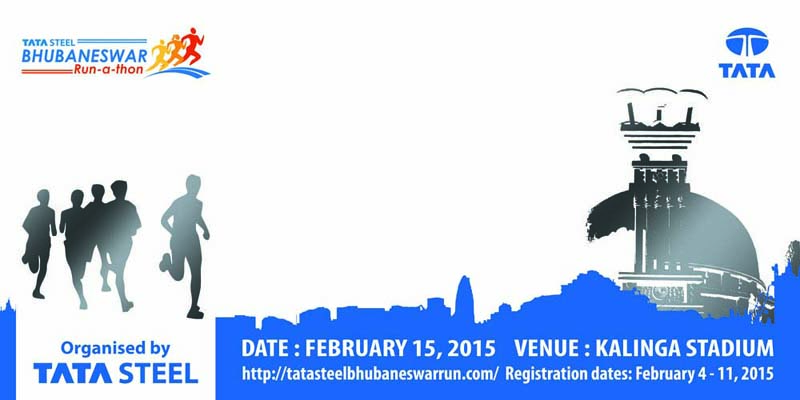 Tata Steel announced the launch of its annual run-a-thon in Odisha titled "Tata Steel Bhubaneswar Run-a-thon" which will be held for the first time at the state capital on February 15, 2015 where in the participants are required to run 10 km.
For the run-a-thon, Tata Steel and its Sports Department will get internationally recognised technology and tracking mechanisms for the first time in Odisha, thus enabling runners to have a professional sporting experience.
Arun Misra, Vice President, Gopalpur Project, Tata Steel unveiled the logo and website of Tata Steel Bhubaneswar Run-a-thon and formally launched it.
Some more details on the event:
Each participant would be given a Goodies bag which would have
A t-shirt for the event
An information leaflet detailing all the things one needs to know to prepare for the event day
A bib/chest number(unique to each participant and RFID chip)
An RFID chip which will be used to the tract the participant's performance and location ( this chip will help us record the timing of the participant. There will be timing mats placed at the starting point, on the route and the ending point. When a participant would step on it, the RFID chip would automatically record the timing against the Bib number to which it is allocated)
A refreshment coupon
The prize money for the events is as follows:
10Km Men & Women (Separate for both) – Rs. 51000, 41000, 31000, 21000 & 11000 for the first 5 winners respectively
7Km Men & Women –(Separate for both) from Organisations – Rs. 15000, 10000, 7500, 5000 & 4000 for the first 5 winners respectively
7Km Men & Women – (Separate for both) from Colleges/ Institutions – Rs. 15000, 10000, 7500, 5000 & 4000 for the first 5 winners respectively
5Km Boys & Girls (Citizens)(Separate for both) – Rs. 10000, 7000, 5000, 3000 & 2000 for the first 5 winners respectively
5Km Boys & Girls (School children)(Separate for both) – Rs. 10000, 7000, 5000, 3000 & 2000 for the first 5 winners respectively
Site to register: Runathon site
Comments
comments