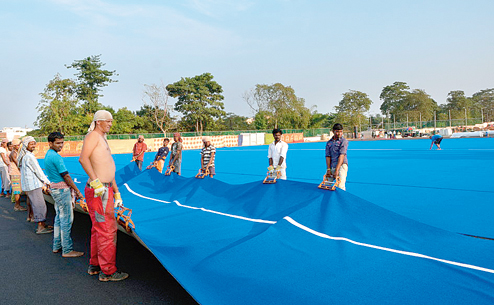 Laying of synthetic turf for the second hockey ground at Kalinga Sports Complex has begun.
The second turf will be used for practice during the upcoming Champions Trophy, scheduled to be held between December 6 and December 14.
A state sports department official said the practice turf would be ready by November 22, days before the arrival of the participating teams in Bhubaneswar. Eight teams, including India, will take part in the tournament.
The practice turf will also have the facility of floodlights. The sports department will spend around Rs 1 crore to install floodlights for the practice turf. This turf will also have the same pink and blue colours like the main turf.
An official said Netherlands would be the first team to reach Bhubaneswar on November 27.
The Indian team will reach by November 30, followed by the teams from Argentina and Australia, which are also likely to arrive on the same day.
India will start its campaign from December 6 playing against Germany under floodlights. India is placed in Pool B that also includes Germany, Argentina and Netherlands. Pool A will feature England, Australia, Belgium, and Pakistan.
The sale of tickets has begun for the match. A sports official said the ticket sales at the counter in front of the stadium had been encouraging.
Courtesy: Telegraph
Comments
comments