Time for some entrepreneurial comedy live at IIT Bhubaneswar by team of The viral Fever as part of Esummit being organised . The Viral Fever (founded by IIT kharagpur alumni) also popularly abbreviated TVF is an online digital entertainment channel. According to Arunabh Kumar the founder of this creative network, the idea behind the launch of the network was to reach out to the younger generation who seldom watch the television to either pass the time or for entertainment.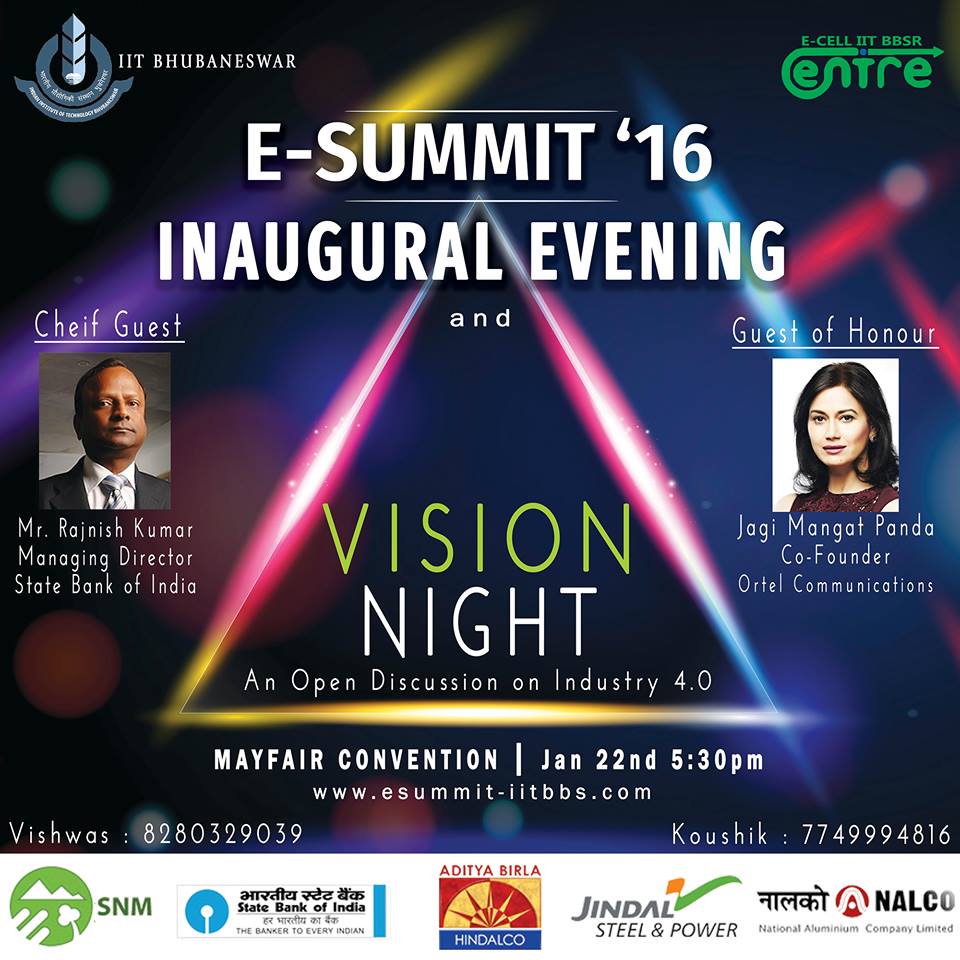 Every year E Summit will conduct various workshops, competitions, investment rounds, Guest Lectures, Conferences, etc to create awareness about various aspects of entrepreneurship and enlighten the community.
It will shed light on one social agenda and a theme.
Social Agenda :
One socio-economic hurdle which India is facing. Shed light on how entrepreneurship can tackle it.
Theme :
A topic of global entrepreneurial interest and perceive it in Indian context.
Theme this year : Industry 4.0
Industry 4.0 refers to the fourth Industrial Revolution. It originated from a high-tech strategy project of the "German Government". It is automation of manufacturing using cyber physical systems, IoT and Internet of Services. It faciliates the vision of a smart factory. The basic priciple is to connect machines, work pieces and systems so as to create a intelligent network of machines along the entire value chain such that each one can control each other autonomously.
Industry 4.0 has been heralded as the future of manufacturing, and the future for India is in ensuring its spot as the "digital factory of the world". India's thrust towards "Make in India" should keep in cognizance Industry 4.0 and begin its positioning in this space. India's advantage is its ample supply of skilled technical labour.
We have seen that each industrial revolution has happened faster than last, so if we act soon it can surpass all countries which overtook us to become one of the manufacturing leaders of the world.
E-Summit'16 tries to explore the Entrepreneurial Opportunities available in this exciting field which is currently new and nascent, but has a potential for an explosive growth.
About:
Centre for Entrepreneurship, IIT Bhubaneswar is a non-profit organization that aims at the promotion of spirit of entrepreneurship among students. The cell, started as an initiative of the Entrepreneurship Cell IIT Kharagpur, visions to create awareness on entrepreneurship and encourage budding entrepreneurs. It has been conducting a plethora of events since its establishment in 2009 and aims at nurturing innovative ideas among the students from the root level .
E-Cell at IIT Bhubaneswar plays a key role in fostering the entrepreneurial endeavours in young minds. It comprises entirely of students of IIT Bhubaneswar. With a volley of events of the likes of knowledge camps, workshops, guest lectures and contests lining up in the future plans and innovation and patenting being the prime focus areas of its mission, Centre for Entrepreneurship aims is sure to tread steadfastly in its journey to the acme of success.
Comments
comments