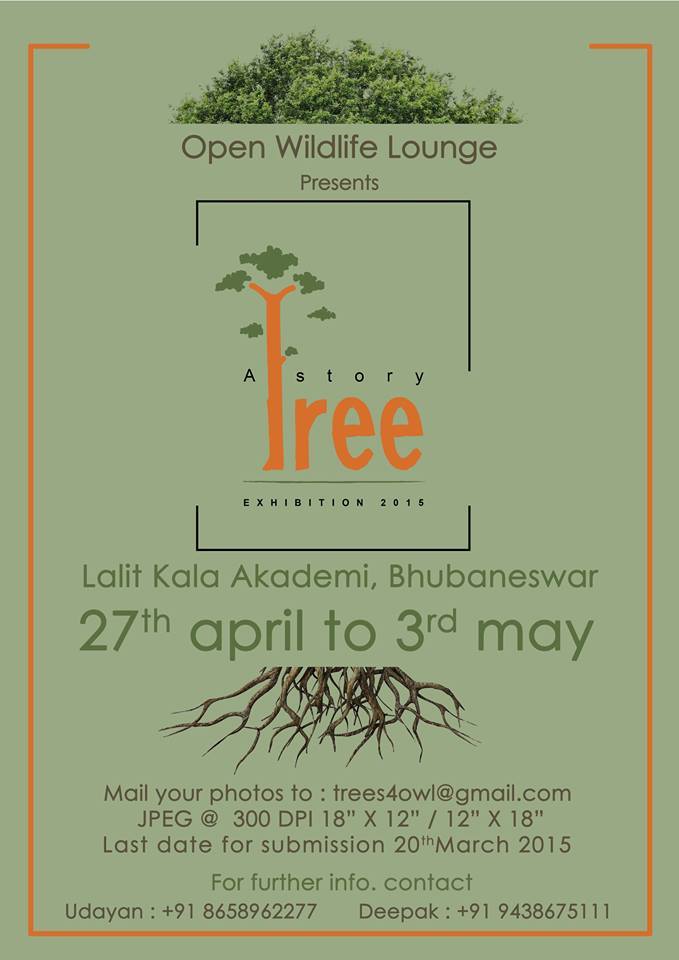 In 2014, Odisha Wildlife Lounge (OWL) pioneered a hugely successful photo-exhibition on the theme 'Mangalajodi' leading to a meaningful contribution towards a social cause in Mangalajodi village. This was possible due to the many awesome bird photographers from all over India who readily gave their wonderful images for the exhibition and then the patrons who appreciated and bought the exhibits. When a hobby or creative pursuit enables you to make a meaningful difference to some lives, it is humbling, enriching, and a matter of great pride too.
In 2015 the OWL focusses on Trees with the theme 'A Tree Story'. The idea is to draw attention towards the loss of habitats and depletion of forests due to mindless cutting of trees for meeting so-called development goals. Trees are the Saviours in this age of global warming and greenhouse effect. As carbon dioxide is released into the air from combustion of fossil fuels the fumes released heads towards the atmosphere where it reaches and depletes the ozone layer. Trees help to reduce these emissions by absorbing the harmful carbon dioxide emissions. Trees take the carbon dioxide from the air and convert it into cellulose which is stored in the trunk of the tree. During this process the carbon is retained in trees while the oxygen molecules are released back into the air increasing the levels of clean oxygen in the atmosphere.
The shade-giving properties of Trees are an integral part of folklore and moral stories. Our scriptures eulogise the 'vanaspati' the 'aushadha', and the 'virudha'. Trees are homes to birds and other species of wildlife. Aesthetically, flowering and ornamental trees lend beauty and character to landscapes. Even a leafless tree has it's own stand-out beauty that actually enlivens a scape.
This is a shout out to all the fabulous photographers in India and abroad to please contribute their beautiful TREE images for the OWL 'A Tree Story' exhibition. Details can be seen in the accompanying poster.
Also Read: BBC World News selects picture of Odia based in Dubai
Comments
comments