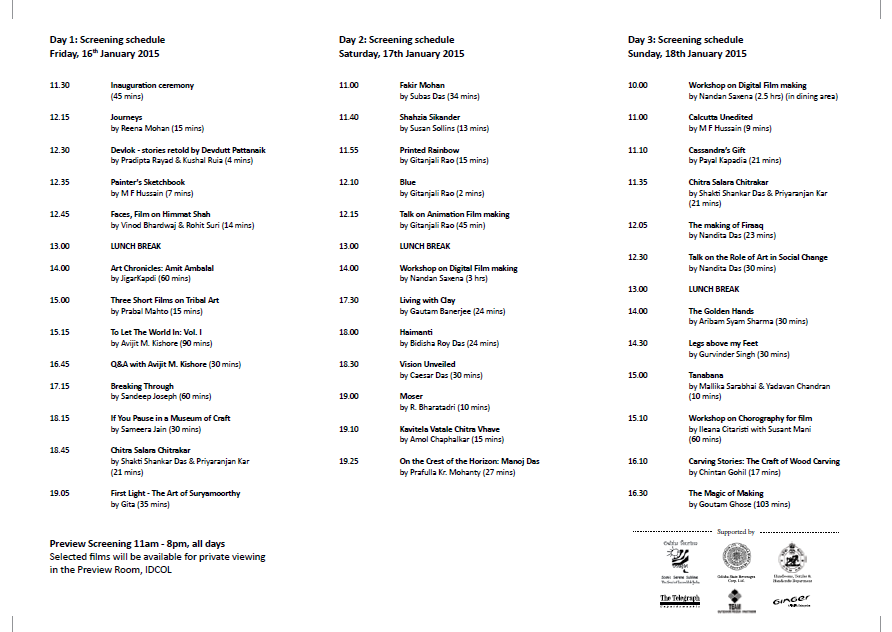 There have been a lot of questions regarding the festival. It is great to get a response from so many film & art enthusiasts. For your convenience we made an overview of the frequently asked questions. Please let us know if you have other questions!
Who can attend the festival?
The festival is open for everyone.
How do I buy tickets?
You don't need to buy tickets. The festival is free for all who wish to attend.
Where do the screenings take place?
The screenings will take place at IDCOL Auditorium in Bhubaneswar, Odisha.
How do I get there?
IDCOL Auditorium is located in Ashok Nagar on IDC lane in Bhubaneswar. The Indira Gandhi Park is situated right across the auditorium.
Is there anything else at the festival besides the film screenings?
There are numerous workshops that will be complementing the film screenings. Apart from this, stalls showcasing handlooms and cuisines from Odisha will be set up.
At what times are the films screened?
Friday: 11.30 AM – 8 PM
Saturday: 11.00 AM – 8 PM
Sunday: 10.30 AM – 6 PM
What if I'm late to the screening?
A seat may be provided depending on availability. It is requested that you make it to the Auditorium 10 minutes prior to the time of screening.
Is the festival a competitive event?
This festival is not a competitive event. It is an exhibition of films that focus on Art and Artists.
What is the theme of the festival?
The festival places a special focus on Art and Artists and is the only Film Festival in the country that does so. This year's theme is "Making of Art: the Process".
Comments
comments