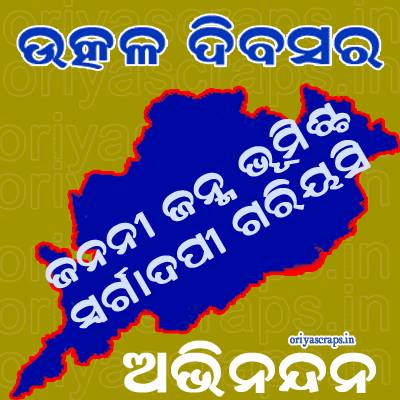 My Odisha – the scenic, serene, sublime Odisha- turns 79 today. Her exotic coastlines, serene lakes, towering mountains, soothing forests, frolicking rivers make her the most beautiful. The Ramayana ( Kusha was the ruler of South Koshala), the Mahabharata, the Vayupurana make me proud by mentioning her name. Even the tribal people of this state – Ekalavya & Jara Sabara- play a significant role in the Mahabharata.
My mother tongue , Odiya , is one of the oldest classical language of India. Odissi, the oldest surviving dance form in India finds mention in the Natyashastra of Bharat Muni. Imaginations and emotions take form of poetic expression in all most all fields of life in Odisha.
May it be the wailing of a grief stricken mother ! May it be the pleasure of a harvesting farmer ! My Lord Jagannath lives more like a human being than an unreachable God. He catches cold, shivers and covers himself with a blanket. He visits his relatives, fights with his wife, and tries to please her with gifts. Each Odiya addresses him as " Saanta"/Grandpa. The rhapsody of human feelings embedded intimately in his culture keep on vibrating in the hearts of millions.
The architectural splendour of Konark, applique art work of Pipili, Silver filigree ornamental works from Cuttack, the artistic grandeur of Bomkai, Mania Bandh, Pashapali saree make my identity (as an Odiya) enviable for others. Rasgulla ( Rosogolla in Bengali & Rasbari in Nepali ) and Kheeri ( kheer ) – these two world famous cuisines originated in Odisha. Dalma and Santula – two vegetable dishes of Odisha are found in the Rastrapati Bhavan Menu. Lord Jagannath' s Kohinoor ( Maharaja Ranjit Singh had wished in his death-bed will to donate it to Lord Jagannath. ) is the most sought after diamond. Kalinga prize for popularisation of science has been established by UNESCO with the donation of Biju Pattnaik in 1951.
Few eminent laureates are : Louis De Broglie, Bertrand Russell, Julian Huxley, Alexander Oparin , David Suzuki. Pathani Samanta's astronomical accuracy is still an enigma for modern day scientists. Still we are believed to be a state of tribal people.
Still we are comparatively a lesser known name. ( Few even ask : Where is Odisha? Near Bhubaneswar? ) Why ? Lack of assertiveness of Odiyas? Lack of strong regionalism among Odiyas? We celebrate Vaisakhi , Chhat & Kaurva Chauth ! Why don't we let them know about our Rajo, Kumar Poornima ? Dandia during Navratras are becoming very much common in Odisha. Where is our Puchi ? We see long queues in front of the jewellery shops on Dhantaras. What about Akshaya Tritiya ? Why Odiya magazines/books are becoming obsolete in our houses ? Why Hindi/ English is preferred instead of Odiya ? ( I have noticed Bengallis prefer to speak in Bengali with their Bengali friends, & even with Odiyas . Unfortunately Odiyas feel privileged if they can reply them in Bengali. Why? # I respect Bengallis as they carry their regional essence with them. Mallus & Marathis will top the list.) A silence won't be an answer, won't be a solution
Vande Utkal Janani.
Jai Jagannath.
Comments
comments