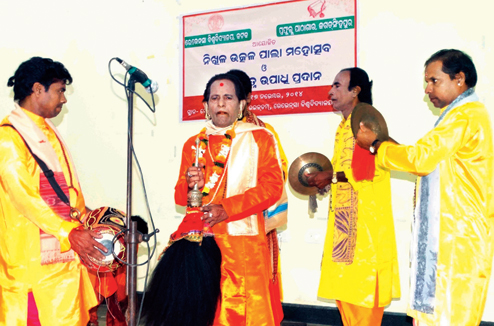 For years, Palla, a folk performing art form of Odisha, has been a major source of entertainment for the people. However, the folk art arm is slowly dying due to lack of encouragement and interest particularly from the younger generation.
The modern day means of mass media, including television and the Internet, has given Palla a stiff challenge.
Palla, a unique form of ballad, is a combination of elements of theatre, classical Odissi music, Odia and Sanskrit poetry, wit and humour.
Generally, Palla is presented in three ways — Baithaki (seated), Thia (standing) and Badi Palla, all these have an element of competition between groups.
Palla artistes have so far made significant contribution towards the society in bringing change and preserving the rich tradition, even under the threat of obliteration.
Ravenshaw University's maiden effort of organising a two-day Palla competition has been appreciated by all the artistes who are struggling to keep the art alive.
The Palla competition was organised with support from Prafulla Pathagar of Jagatsinghpur that has played a champion role in reviving the folk art form by organising such competitions for the last five years.
Around 20 Palla groups from different parts of the state participated in the competition that saw a large turnout, including students.
The artistes said that of late the state government has also initiated efforts towards promoting the folk art of Palla by documentation and encouraging the artistes.
Various Palla groups are being asked to spread awareness among the rural population on various social issues such as prevention of various diseases including dengue, malaria, diarrhoea and other issues.
Comments
comments