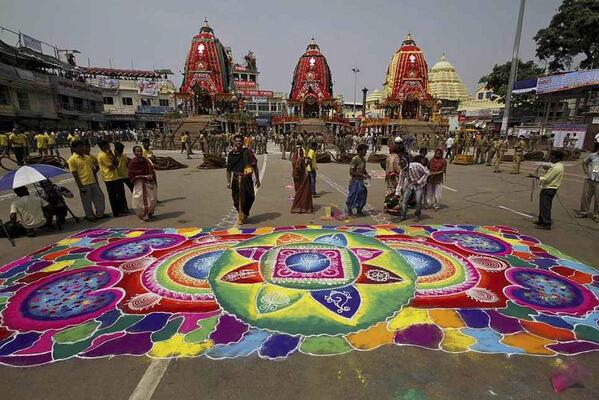 Shaswat Panda Says: Branding: we need a string identifier symbol to attach the idea of Nabakalebar in the minds of ppl
Amrita Sabat says: Completely agree wid @shashwat_panda dat v need dedicated #SocialMedia Team & bloggers 2 promote #Nabakalebar 24/7
-a dedicated web portal for #Nabakalebar is the pressing need of the hour and so is the need for a dedicated team of content generators–bloggers, photographers and curator. All need to work in tandem to bring up different perspectives , storylines and the essence of the #Nabakalebar event
Debasish Tripathy says: Series of 4-5 min videos professionally made on Jagannath culture. Released by Social Media experts for wider reach.
Baibhav Mishra says: A small conviniently readable coffee book journal highlighting the importance of #Nabakalebara in few many Indian languages…
Items those are sold in Puri or Jagannath temple premises like diary, calendar or anything can contain a printed section describing and highlighting about Nabakalebar…
Amrita Sabat Says:
I'm pasting my suggestions from twitter here: (1)Very 1st thing is 2 get @odisha_tourism up & runnin 2 promote #Odisha events continuously & 2 specifically tweet about events!
(2)Create FB & Twitter handles for #SJTA 4m wher specific #Nabakalebar news,fotos,videos+places 2 stay b continually sent out
(3)Present site http://www.jagannath.nic.in/index.asp fine yet needs upgradatn..separate tab at top+scroll bar wid #Nabakalebar updates reqd
(4)On @odisha_tourism website http://www.orissatourism.org/tourism-in-orissa.html … too a scrollbar dedicated to #Nabakalebar updates shd run
(5)Mk new (4-5 mins as suggested by Debasish) videos collecting prev editns #Nabakalebar fotos/videos 4 awareness on wats it & 4 dose who kno,it'll b #nostalgia!
Speaking of websites, I must mention that both above listed websites need thorough checks & corrections for spelling & grammar mistakes. We surely want to project our sites as thoroughly professional, error-free & user-friendly as lakhs of people from across the world will visit these sites to know more.
Conducting #Nabakalebar Awareness Quotient quizzes on FB & Twitter from dedicated #SJTA handle & giving as prizes merchandise branded with 'Nabakalebar2015' symbol/logo & brief-write-ups (combined suggestns of Ranjan & Shashwat!) will create a lot of buzz & followers!
Also suggest that conducting #Blogging Contest about #Puri & #Nabakalebar via IndiBlogger & BlogAdda where each submitted blog has to have a link to #SJTA site or new dedicated #Nabakalebar site will be a great way to reach lakhs of Indians all over the world & foreigners too who are members of these Blogging communities!
Satya Samal Says:
1.Youtube video describing the story of Nabakaebar..How the tree gets found..how deities change the Body…and fun of Pulling the Rath…It can be shared to create interest….It needs to be catchy..
2.Promote it as part of a tour package(5 day)…where the main event will be Nabakelbar,Puri for 2 Day..then..other touring places like ..chilika,konark..etc…
@Anitaexplorer from twitter says: All media must b strategically used 2 communicate & spread #Nabakalebar info. Many ppl r not aware what it signifies/means.
Similar initiatives needed from all. Let all share links #Nabakalebar
Bighnesh says:
as far i can see n understand…. Social Media platforms are the best avenues to promote things out… Well me and my team having doing social media marketing for quite some time and have a good experience out here…
but i would rather instead of marketing it over the social media platforms only results would be better if we go for digital marketing…
–
Comments
comments